Whether it is iOS or Android, most users prefer to download their apps from their respective official app stores. But there are few users who always want to try new things especially free paid apps. For such users, there are a number of third-party app stores but none of them is as good as Emus4u especially for iOS. The best thing about this app store is that it does not require jailbreak (Android equivalent of root).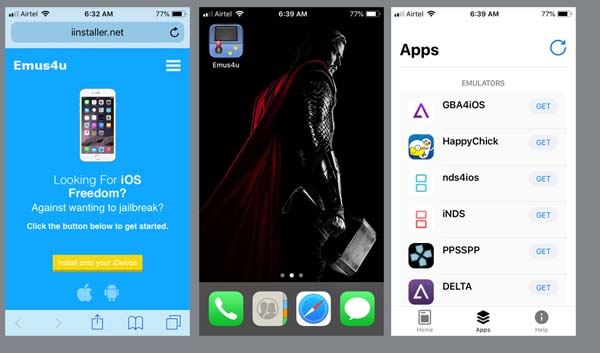 Android has innumerable third-party app stores but however, that is not the case on the other side of the aisle (iOS users). There are some but most of them require a jailbreak and of course, no one will prefer to go through that headache as the user has already paid a hefty amount for the device itself. Hence, Emus4u is for that kind of users and it works as you expect it to work. It is easy to install as well as easy to use because of its user-friendly.
Before heading to the instructions on how to install Emus4u on iOS and Android. We have listed some of the features of this third-party app store which you might consider looking at before installing it on your device.
Also Read: How to root Android Device using CF Auto Root
Emus4u Features
Available for both iOS and Android devices including smartphones and tablets.
Free to download and easy to install.
No requirement for jailbreak (iOS) or root (Android).
User-friendly and customizable UI based on needs.
A vast catalog of applications and games.
Exclusive apps and games which aren't available on App Store or Play Store.
Modified apps and games with extra features that are not present in their official counterparts.
How to install Emus4u on iOS (iPhone and iPad)
Open the official page of Emus4u in Safari browser.
Once the page gets loaded, tap on 'Install onto your iDevice' button in yellow colour.
Then, tap on Allow to grant permission when prompted.
Followed by that, tap on Install located at the top right corner.
Further, enter your passcode to proceed installation (will appear only if the user has set up passcode).
Once again, tap on Install to complete installation followed by Done on the top right corner.
That's it, Emus4u has been successfully installed on your iOS device.
How to use on iOS (iPhone and iPad)
To use Emus4u on an iOS device, the user will have to modify certain settings.
Go to Settings -> General -> Profiles & Device Management.
Then, tap on 'China Mobile Group Heilongjiang Company Limited' under Enterprise Apps to add the developer to the trusted list.
Tap on Trust 'China Mobile Group Heilongjiang Company Limited' in blue colour to grant permission.
Again, tap on Trust when prompted to complete the process.
Once done, the user can now use the Emus4u app store to download any apps and games of their choice without any issues.
Also Read: How to Download and Install GB Whatsapp on PC
How to install Emus4u Android
Allow installation of apps through unknown sources under security settings if you haven't already (Android Nougat and below).
For Android Oreo and above, allow installation from unknown sources when prompted during the installation process.
Download the Emus4u app store APK from this link.
After downloading the APK, install it like any other normal Android app.
That's it, now open Emus4u from app drawer to install apps and games of your choice.
Hope, we have successfully helped you in installing Emus4u on your iOS/Android device. If you are still facing any issues or having any doubts, then feel free to comment them below. We will get back to you as soon as possible.