Today we will gonna tell you guys about an App termed as "Kingroot" with which one can root Android device in a single click. Here in this article, we will provide you with the latest Kingroot apk to download for android and PC, features of Kingroot and how to root your Android device using Kingroot apk. Although there are some other rooting apps like iroot App, Root Master, etc.
However, In 2018 we are witnessing some of the most powerful Android Phones, and we have to say one big change is that now devices offer great customization features out of the box. There was a time when even for applying simple customization one has to download third-party launchers and plugins. Luckily at present, all major brands are too much concerned about the hardware as well as software. But still some limitations are there one such is root access.
Rooting a smartphone removes almost all of the restrictions that a brand has applied to the device. This elimination helps a user to go further on the way of customization. But rooting is the process which is not a cup of tea for all users out there. It requires efforts and some special third party software which generally includes the use of a PC/Laptop. But Now with Kingroot apk, you can root your Android Device without using PC/Laptop. Now let's see how.
What is Kingroot?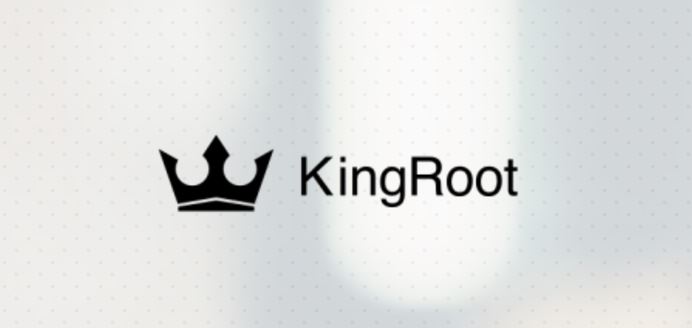 Kingroot is a simple application which can root almost any Android phone in a single click. There are a ton of similar apps available, but when it comes to reliability, no one comes close to it. Kingroot success rate is believed to be 98% which means even if you've tried multiple application for rooting and nothing worked there are chances that using Kingroot will solve the issue. The tool is easy to use and is available for both PC and Smartphone platform. A suggested by Kingroot website the tool is perfectly compatible with more than 1,04,000 devices, which means for most of the users downloading Kingroot APK file will eliminate there problem of how to root.
Why use it?
As mentioned above the application's success rate is over 98%, and it supports more than 1,04,000 devices. Which simply means it can easily root most of the Android devices available on the market right now. There are a ton of alternatives available in the market, and some even share a similar name but when it comes to reliability and trust using Kingroot is highly preferred.
You May Also Like
How to Enable OEM Unlocking on Android Devices(2018)
FM Whatsapp Latest Version: Features and How to Install [APK]
How to Download LG Flash tool 2018 and LGUP all versions
Features of Kingroot:
Using Kingroot APK for Android can get you rid of the bloatware installed on the device.
Kingroot offers one click root facility which means there is no need to install certain apps in PC and then connect your Android device to it. It needs nothing.
You may have noticed those ads which appear while using an application. By rooting a device with Kingroot gives you the ability to eliminate those advertisements which were making the experience annoying.
Using the application can indirectly result in increased smartphone speed. Rooting gives you complete access of your device, which means you can even overclock the processor up to a certain limit which will further improve the device's performance.
Installing Kingroot APK will give you the ability to flash custom ROM. After rooting a device successfully, one can easily flash a custom recovery and custom ROM for a better experience.
How to Install Kingroot APK for Android?
Kingroot is like any third-party application, so it doesn't require any special attention from your side.
Simply download the Kingroot APK file for Android and turn on the unknown sources on your smartphone's settings menu.


Install Kingroot Apk

Now just click on Install button and you're done.
When first opened it will ask to grant permissions, tap on yes for all.
How to root Android Device using Kingroot apk for Android 
Run Kingroot App on your Android Device, Kingroot UI will prompt saying that "Root access is unavailable."
TAP on the "START ROOT" button, then you will see the rooting progress.
When the rooting process completed the green tick will appear on your screen with the message "Root successful"
Restart your Android Device, and now you have the full control of your phone and can change any settings of your phone.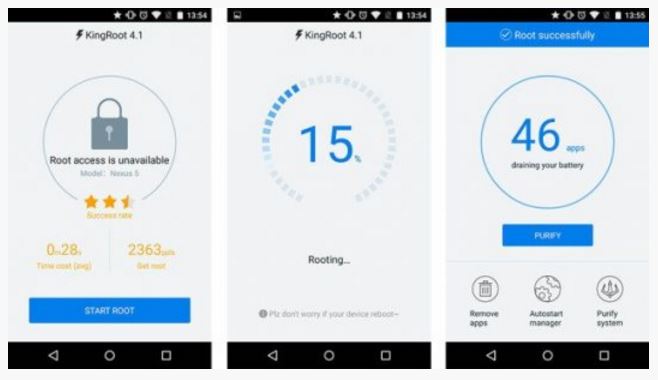 How to root Android Device using Kingroot for PC
First Install Kingroot program on your computer.
 Connect the Android Device to your Computer(PC) via USB. Please download the latest USB drivers of your phone in PC.
You have to turn on USB Debugging mode on your Android Device.
After the successful connection, the Kingroot software will detect your phone and tells you whether it is supported or not with this program.
If your Android Device is supported by the Kingroot, then just click on the "Start to Root" button and rooting process will start after that.
After the rooting process is over your Android Device will automatically restart. After that, you will see the message "Successfully Gained Root" in Kingroot program.
Downloads
Latest Kingroot APK Android
Latest Kingroot for PC