We are living in the era of smartphone applications. There are millions of apps which are being used regularly by people all around the world. But, there is one thing which is still finicky or rather frustrating for some. And that is none other than the settings which are buried under the apps and the system. The solution for it is the latest QucikShortcutMaker v2.4.0 which enables users to create shortcuts of their favorite app and system settings.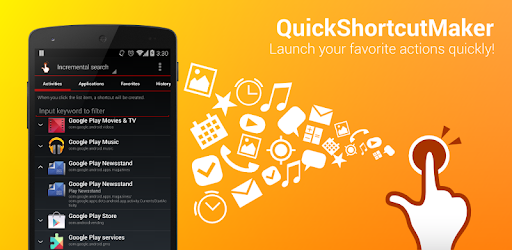 The QuickShortcutMaker app has been around for a number of years now. But sadly, the app has not been updated for a long time. However, it is still the go through for many users especially to those who used it intensively previously. The last update QuickShortcutMaker APK received was v2.4.0 and it is still doing great irrespective of its age.
QuickShortcutMaker v2.4.0 Features
QuickShortcutMaker is a free to use personalization Android app developed by sika524. It enables users to get easy access to their desired settings of any applications or the system itself. This is possible by creating shortcuts of the desired settings which may be a process or an activity. These shortcuts can be then placed on the home screen of the user's smartphone through the Quick Shortcut Maker widget.
The app supports many launchers and hence the user need not worry if they use any third-party launchers like Nova, Action, Microsoft, Pixel, etc.
QuickShortcutMaker v2.4.0 Changelog
The below-listed changelog is by the developer themselves which can be found on the app's Play Store page as well.
Added Italian and Arabic translations.
Adapted to AndroidPhone7 theme.
Changed dialog UI.
Fixed a bug that the shortcut for Google Play cannot be opened.
Added function to ask you to rate this app.
Also Read: How to fix not registered on network error on Android phones
How to use QuickShortcutMaker Apk v2.4.0
Download and install the Quick Shortcut Maker app from the link provided below.
On the home screen, tap and hold to open widgets option.
Further, tap and hold Activities which will have QuickShortcutMaker logo.
Place it to the desired location on the screen.
Now as the app opens, create the shortcut of choice.
Once created, the shortcut will appear on the home screen.
Download
The QuickShortcutMaker app can be downloaded from the Play Store as well as from the mirror link provided below.
If you are facing any issue downloading or installing the app, then do comment below and also let us know if you are confused on how to use this app. We will help you out as soon as possible.