Finally WhatsApp Delete for everyone is rolling out with the latest beta v2.17.399. This new feature delete for everyone is a demand of users from long time which is answered today. Yesterday, we see WhatsApp beta v2.17.397 was rolled out with new emojis, facial expressions and more features.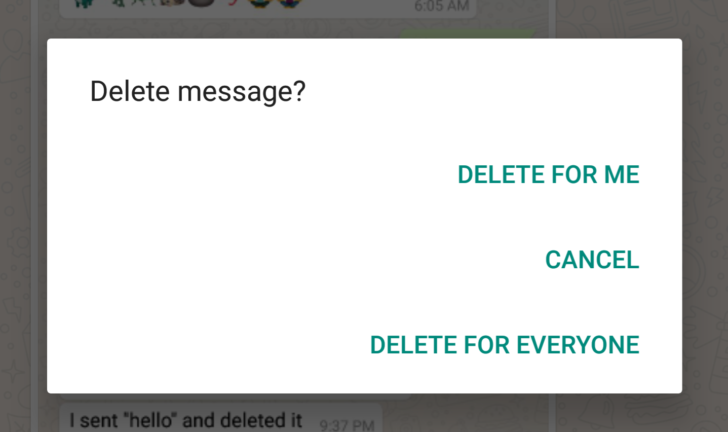 With this new feature you can delete a particular message sent by you in a group or to an individual. People sometimes sends the wrong chat or done mistakes in typing, Now here is good news for you. You can delete the message in seven minutes after sending. Once the message is deleted it is replaced by "This message was deleted" in the recipient chat.
How to Delete message for Everyone in WhatsApp
Open WhatsApp and go to the chat containing the message you wish to delete.
Tap and hold the message. Optionally, tap more messages to delete multiple messages at once.
Tap Delete at the top of the screen > Delete for everyone.
WhatsApp Delete for Everyone is currently rolling out in beta v2.17.399. So if you can't wait to get this feature in your app you can sign up for the whatsapp beta program. Than you can download the latest version to use Whatsapp Delete for Everyone feature.
Who used this feature should share their experiences via comments below.