In 2017, ​Google launched its own Files Manager for Android devices known as Files by Google, followed by the lite version Files Go. The Files by Google app came with a plethora of handy tools and features like the option to directly backup files to the cloud, sharing files offline, and many others. Along with these features, Google has been constantly updating the application to make it more feature-rich and useful. With a recent update, Google added a secure folder along with new and intuitive controls for the in-built media player. Google has now started rolling out a new update to the Files by Google app. This update provides users with the option to add important files to a Favourites folder.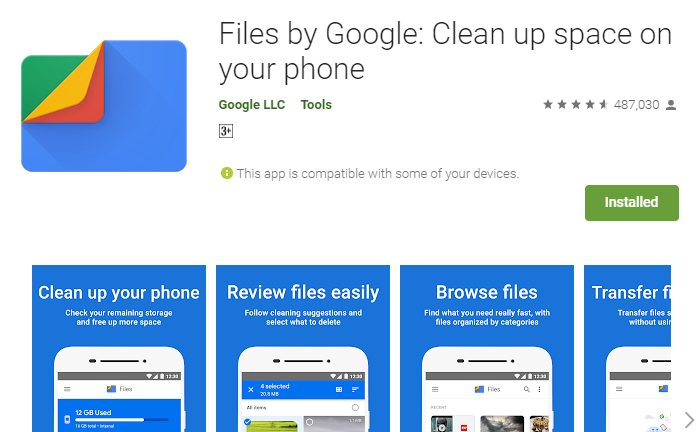 The new update to the Files by Google App comes as v1.0.362806406. Users can update the application from the Google Play Store. It is a phased rolled out and therefore it is advised to stay patient if you don't find the option to update the application. The primary highlight of this update is the Favourites folder. Users can mark various important files as a favourite, thereby creating quick access to those files via the home screen. This feature will save the hassle of navigating the entire device library to find a single file. One can follow the given steps to add files to the Favourite folder.
Steps to add files to Favourite Folder of Files App
Select the required file.
Tap on the three-dot hamburger menu.
Click on the Add to Favourites option in the drop-down menu.
Your file will be added to the Favourites folder.
As mentioned earlier, these marked files can later be accessed directly via the Favourites folder. You can identify favourite files with the star marked next to them. While Favourites might be the highlight of this update, it does leave hints of future features. As discovered by our folks at the XDA, there are various strings in the code that highlight new changes that might come in upcoming updates. Some of these strings hint at the following upcoming features.
Upcoming features for Files by Google App
Revamped Internal Storage Screen: It will show a more granular distribution of storage space in the device.
Auto Detection of Blurry Photos: The application will automatically scan for blurry images and compile them in one place for easy sorting.
Auto Detection of Duplicated Photos: The Files app will scan for duplicate copies of the same image and help you to easily get rid of them.
Google hasn't confirmed if or when these features will arrive in the Files by Google application. However, we expect them to be added in consequent updates. Meanwhile, users can explore and benefit from the Favourites feature. Do let us know which among these is your favourite feature.