We, most of us idolize some famous personalities in one form or another. It's a human nature to admire things/person that imparts pleasure or happiness to our soul or mind. And, we tries to imitate them by knowing their behaviour and attitudes. In a hurry burry to know more about them, we of course, seek the help of greatest source of information, our master Google. Yeah, Google barely leaves us empty handed as it's got solution for all most all interrogations. Well, now onwards when you search for your favorite famous personalities, their answers will appear in the form of selfie-style videos.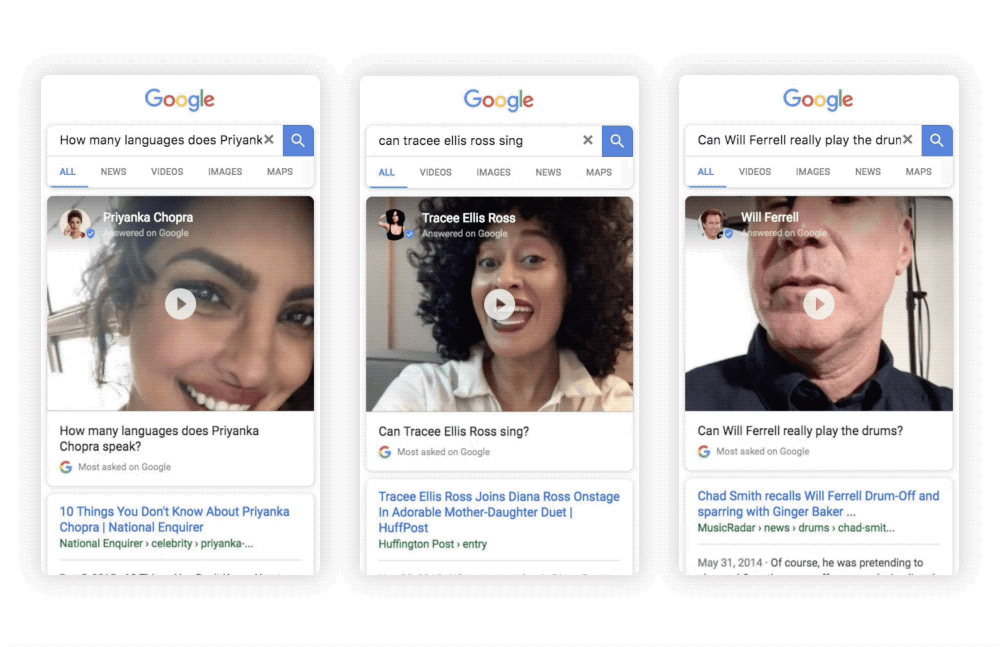 With this new change in action. Google places a short-interval video of your idol with Top Questions Answered section at the bottom of their Google card. Then a Tap on any of them will take you to a full screen view of the short selfie videos of them answering the frequently asked questions. Literally, you'll get the answer straight forward from the person itself you're in search of.
Needless to say, the new set-up on Google search result is quite intuitive. Since you'll be more pleased and satisfied with the answer provided by selfie-video. However, currently the selfie-style answers are possible only if you search related to the following famous tycoons: Priyanka Chopra, Will Ferrell, Tracee Ellis Ross, Gina Rodriguez, Kenan Thompson, Allison Williams, Nick Jonas, Mark Wahlberg, James Franco, Seth MacFarlane, Jonathan Yeo and Dominique Ansel. Soon, the list gonna expand as Google will add more famous personalities under this feature.