Google I/O conference is about to start where we will witness a lot of new announcements along with the Google has just announced the Play Award Winners for the best applications. In case you people don't know before I/O conference Google often announces the Winners for best applications and this time as well we have some well-deserved ones. The Awards are distributed among the apps belonging to basically 9 major categories and fortunately, the results are out. Let's check out the apps that have earned a position on this list.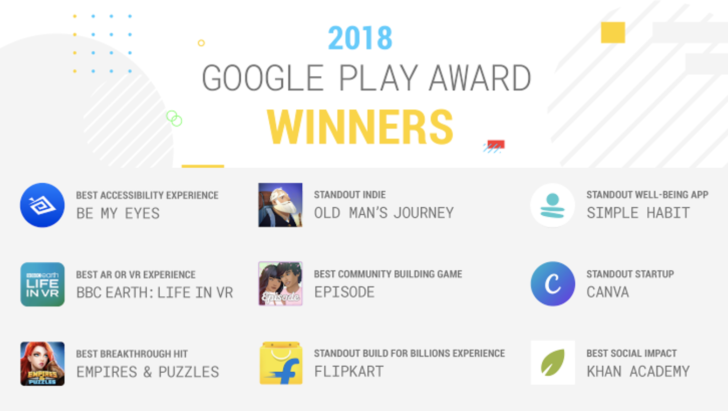 In the well-being category, an app known as "Simple Habit" has secured its position. Simple Habit is one of the best application for busy folks to release stress, it has earned multiple awards for its qualities. The application is Free on Play Store and you can download it from the below given link.
Download Simple Habit
In the Accessibility category, an app called as "Be My Eyes" is the winner. This app has been developed for the blind and visually impaired persons. A visually challenged person can grant help from a sighted user and on accepting request it generates an audio-video connection between them.
Download Be My Eyes
In the Best Social app category "Khan Academy Educational app" is the winner. Khan Academy app lets you learn anything as it makes more than 10,000 videos available at your fingertips. Being Free of cost is one of its biggest advantages.
Download Khan Academy
In the Build for Billions category Award goes to "Flipkart". Flipkart is an Indian shopping website that enables you to buy a lot of products from a smartphone to a health supplement. Flipkart is available now for ages and it offers simple interface.
Download Flipkart
In the Standout Startup category Award goes to an app called "Canva". Canva is an all in one graphic design solution, it helps you in making posters, headers, invitations and much more. On Play Store you can download it for Free.
Download Canva
In Breakthrough category, the Award goes to "Empires and Puzzles". It is a new type of RPG game that comprises great game modes including PvP, Build, Upgrade, etc. It is still not available in some countries, however, is Free to download.
Download Empires and Puzzles
In the Community Building Game category "Episode" is the winner. It is a storytelling game and you can even choose your story as per one's liking.
Download Episode
The Award for Standout Indie Game goes to "Old Man's Journey". It is an emotional game and here you will experience the sorrow and pain of the old man as he experiences different phases in his life. Additionally, the game offers great graphics.
Download Old Man's Journey
The Award for VR & AR categories goes to an app called "Life in VR". Life in VR is an app owned by BBC worldwide, it will allow you to experience the natural world in a different way. For using it you need to have a daydream VR headset.
Download Life in VR