Google launches a new iteration of Android during Q3 of every year. The launch of stable Android 13 is not so far considering the ongoing rumours and reports. Earlier this month, Google started rolling out the Android 13 Beta 1 update to its smartphones. The Android 13 Beta 2.1 update is live for Pixel smartphones starting from Pixel 4. The Beta 2.1 update is a patch fix for the major issues faced after installing the Beta 2 update. Here are the detailed release notes by Google;
Android 13 Beta 2.1 Update
Fixed an issue where typing in the search bar resulted in a blank list of suggestions.
Fixed an issue where devices would crash and restart when turning on the hotspot.
Fixed an issue where a continuous call dialling sound could be heard in the background during a phone call.
Fixed an issue where devices would crash and restart after disconnecting from Android Auto.
Even though the updated version addresses fixing some previous issues present in earlier updates, it actually doesn't. According to a popular news outlet, the search bar issue still persists. Apart from this, the Pixel launcher issue isn't fixed by Google. The update is a minor one and brings more stability to the device. It comes with the firmware version number TPBB.220414.018.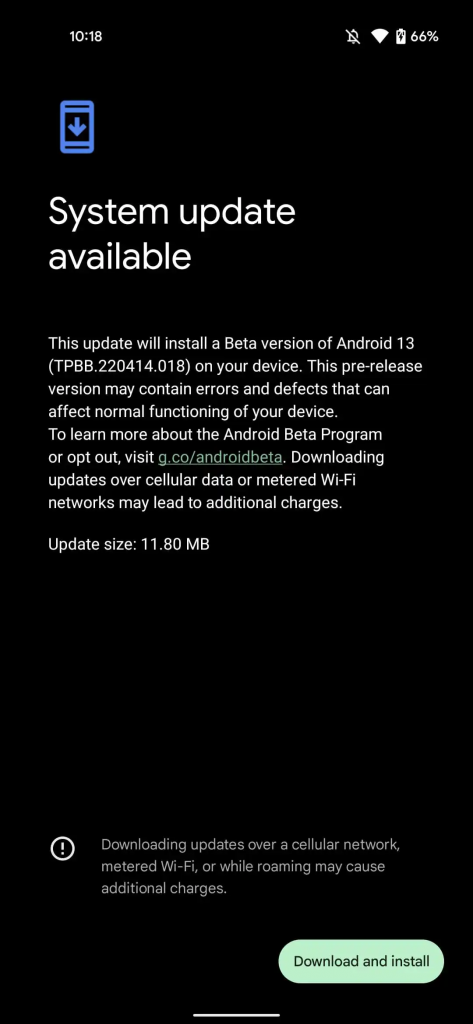 In terms of the security patch, it has the May 2022 patch. Users already on Beta 2 can install it via OTA. If you aren't enrolled on the Android 13 beta, you can do it by clicking here. Once you have enrolled, you can't roll back without erasing the data on your device. Since it is in the beta stage, there will be a ton of issues which you can see in the Source link. Think twice before updating to the Android 13 Beta versions.