Google announced a security suite called play protect on it's I/O conference on may. Google is currently rolling out the Play Protect to all the Android devices running the version 11 or above of Google Play Services.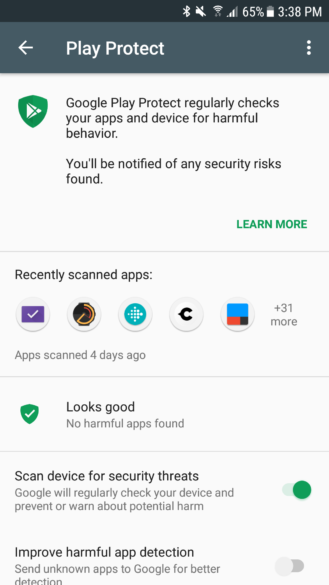 Considering the number of malware and adware attacks the Android apps have been facing recently it must be the perfect time for Google to launch this security suite. While the app includes basic features like find my phone and anti theft measures, it also comes with more advanced features like browser protection and app verification.
The app with verification feature of Play Protect will make sure that your apps are free from any kind of adware by occasionally scanning them. You can also customize how frequently the scans occur by visiting the settings of the app.
To sum it up, Google's Play Protect is much like most security and antivirus apps out there in the market. But it is nice to know that Google is taking steps in order to improve the security of the Android ecosystem.
Also, since the Play Protect has a consolidated interface you can know about all the aspects of your device's in a single place.