A recently launched customization app for Samsung OneUI is creating much hype not only among the Samsung users but also the Android users in general. The #Hex Installer, if you're unaware, opens custom overlay possibilities on Samsung's OneUI software. Pushing the customization boundaries even further, the Hex Installer is now getting an update known as #Hexed+.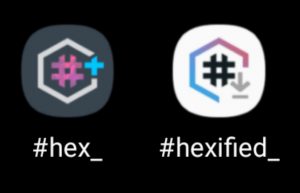 The latest Hexed Installer Beta 6.0.0 is another milestone for the immensely popular app.  With the Hexed+, Hex Installer supports more 3rd party apps to get themed with user color choices. It breaks the 60 overlays limit which existed previously and no more relies on Samsung High Constrast Theme(HCT) base.
As you know, the Hex Installer is a paid app with $2 price tag. But, after a few months of playing around with it, we can say it's worth every penny. As an icing on the cake, the #hexed+ update comes at no cost for the Hex Installer users.
What's New
Another update to make your customization even better. Enjoy all new #hexed+ update, if you want more.
Added #hexed+ support (Read about this in FAQ, Last Section)
+ Bug fixes and Improved stability

New locale translations will be added in future updates.

#Hexed+ Theme Base successfully installed

 
So far, the Hex Installer allowed rootless/non-ADB customization, but if you need the #Hexed+ to theme more than 60 apps, there is a caveat. Except on S9/S9+/Note9, all other OneUI devices require one-time ADB or Root to install this base. Nonetheless, which in our opinion is not bad as via ADB it's the safest method to enable Hexed+. For the instructions on how to enable #Hexed+ via ADB, do check this guide.
To see all the custom overlay supported apps on Hexed+ click here, a lot isn't it?
Download
Hex Installer: Download
Note: The app is in development stage, but highly stable and reliable.