Recently announced HTC One X+ today lands in India. HTC One X+ is the successor to the HTC One X and is available for  INR 40,190 ($US 747). HTC One X+ is all way better than HTC One X  with improved processor, internal storage, front camera and battery front.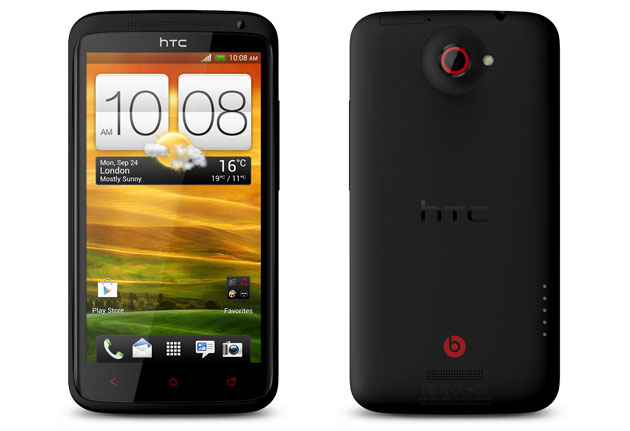 Faisal Siddiqui, Country Head, HTC India stated "We are taking the award-winning HTC One X to a new level with the introduction of the new HTC One X+. Our customers will have super-fast browsing, an even better camera and more immersive entertainment with Beats Audio."
Additionally, HTC One X+ sports a 1.7 GHz quad-core NVIDIA Tegra 3 AP37 processor, 64GB of internal storage and a 4.7-inch display. It also has a 2100mAh battery that, according to HTC, offers 37 percent more talk time compared to its predecessor. There is an 8-megapixel rear camera on board and 1.6-megapixel front camera.
The HTC One™ X+ will be available in Stealth Black and Polar White from November 2012 onwards in India.
Full press release:
HTC INTRODUCES THE HTC ONE™ X+ IN INDIA

More speed, storage and battery life make the best rated Android smartphone, even better

INDIA, 2nd November, 2012 — HTC, a global leader in mobile innovation and design, today unveiled the HTC One™ X+ running the HTC SenseTM 4+ experience on Android™ Jelly Bean. The HTC One™ X+ combines the iconic design, amazing camera and authentic audio experience of the HTC One series, with increased performance, longer battery life and expanded internal storage.
"We are taking the award-winning HTC One™ X to a new level with the introduction of the new HTC One™ X+," said said Faisal Siddiqui, Country Head, HTC India. "Our customers will have super-fast browsing, an even better camera and more immersive entertainment with Beats Audio."

Performance, Endurance and Storage
Featuring a 1.7 GHz quad-core NVIDIA® Tegra® 3 AP37 processor, the HTC One™ X+ is 27% faster than the HTC One™ X[1], making the HTC One™ X+ the best rated Android phone on the market. Developed to be lightning fast, the HTC One™ X+ enables quicker web browsing, fluid gaming and graphic rendering, and speedy downloads, providing effortless usage on the go.
In addition to its increased performance speeds, the HTC One™ X+ introduces extended performance with the inclusion of a 2100 mAh battery, giving you up to 37% (4.7 hours) more talk time, and longer to browse the web and enjoy your favorite music and videos[2].
In addition to 64GB of internal storage, the most offered by any smartphone, the HTC One™ X+ also offers users 25 GB of Dropbox storage free for two years, and supports expanded storage capabilities via USB.

Imaging, Music and Movies
Combining the amazing camera capabilities of its predecessor[3]* with a series of intelligent features, powered by SenseTM 4+, the HTC One™ X+ has been designed to deliver the most premium mobile experience. The newly launched Self Portrait mode on the front camera helps you capture high quality photos by intuitively detecting the human face at various angles and applying subtle enhancements to skin and eyes. Sightseeing mode makes sure you'll always be ready to capture the moment – one touch of the power button bypasses the lock screen and launches directly into the camera. Two new views in Gallery display images and videos and group them according to where and when they were taken.
Exclusively available on HTC smartphones, Beats AudioTM provides authentic, studio-quality sound that delivers the most immersive sound experience with an enhanced audio profile, crisper vocals and detailed high notes for your music, games, movies and videos. Making it easier to listen to music out loud, and through SenseTM 4+, the HTC One™ X+ introduces a new Tap and Go function, which allows you to connect the phone and your music to Beats speakers'[4] when you tap them. To disconnect, it is just another quick tap.

Make the world your stage
Broaden your horizons with HTC Connect and HTC Media Link HD, which expand media sharing and possibilities beyond your HTC smartphone. HTC Connect sets a new standard for streaming DLNA audio and video from your HTC One phone to platform certified home entertainment systems from leading partners such as Pioneer.
HTC has also made it easier than ever to share your media content with friends and family with its HTC Media Link HD. Turn any HDMI-enabled TV into the big screen which can display your photos, videos, or anything else on your phone. A new digital photo framefeature can save and display up to 30 photos in slide show mode. HTC Media Link HD also supports a growing number of popular codecs including HTTP Live Streaming.

"HTC understands that your smartphone isn't just a communications gadget, but also the linchpin of today's multimedia lifestyle," noted Lennard Hoornik, President, South Asia, HTC Corporation. "We've made sharing your music and video content easier, better and bigger than ever before in a social and interactive way, so enjoy! "

Easy Set Up
A new feature in the HTC One™ X+ is HTC Get Started, a new web service that guides the user painlessly through the set-up and personalisation process from a desktop web browser. Designed to enhance the experience of setting up a phone for the first time, this feature ensures that users will get the most out of their new phone from the beginning. With the touch of a button, users' phone will reflect the settings and apps that were chosen on the Web. Visit start.htc.com for more details.

Availability
The HTC One™ X+ will be available in Stealth Black and Polar White at a MOP (Best Buy) of Rs 40,190/- from November 2012 onwards in India