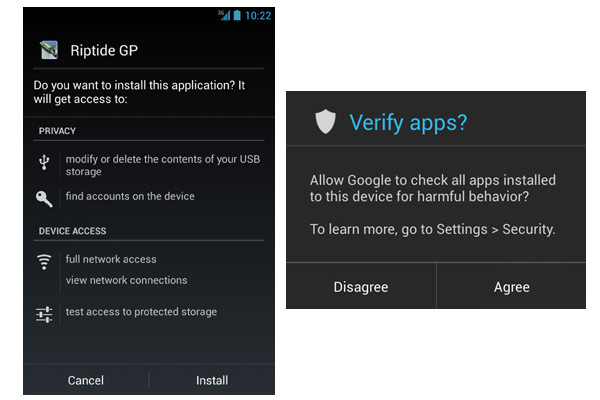 Apart from early discussed features in Android 4.2 there are some more features which came under light today. As discussed last month about real time app scanning when new apk for Android was launched which will scan for Malware. This new Play Scanner or the App Check is expected to work in conjunction with Bouncer, Google's server-side malware guard.
Going in detail The system was designed to work with the phone and to instantly scan all applications that have been installed from third-party sources. All of those sideloaded apps will be scanned remotely on Google servers almost instantaneously. If the app is clean, you'll proceed.
Said Android's Vice President of Engineering Hiroshi Lockheimer, "We view security as a universal thing. Assuming the user wants this additional insurance policy, we felt like we shouldn't exclude one source over another."
Google is taking various precautionary measures after various reports from different analytical companies and even FBI warned users to beware of Malicious Apps on Android. Today also Bit9 warned that there are about 290000 apps in google play which can cause damage to user's data.
Apart from all above Google also introduced new feature which will let you know if any app is trying to send an SMS that will cost you money.
More coverage about Android malware here.