After numerous rumours, Samsung finally launched its flagship devices last month at Galaxy Unpacked event. Samsung Galaxy S10 comes with three different editions, a standard Galaxy S10, Galaxy S10+ and Galaxy S10e. All the devices carry premium specs with edge-to-edge displays. The Korean giant has already made their Pre-Orders live in various countries. Surprisingly, today we got to know about another aspect of the Galaxy S10.
Galaxy S10 Teardown – Expensive repair
As per the new teardown video from iFixit, we came to know that Galaxy S10 repair will be a costly affair for you guys. So, if you are looking to buy it, then make sure you take care of it with proper cases and guards. Otherwise, you have to pay for its expensive repair.
As per the iFixit teardown of Galaxy S10, S10+ and S10e, all the devices carry a strong adhesive to protect its fragile parts. iFixit has published a video of the Galaxy S10+ disassembly while photos of the Galaxy S10 and S10e photos are available.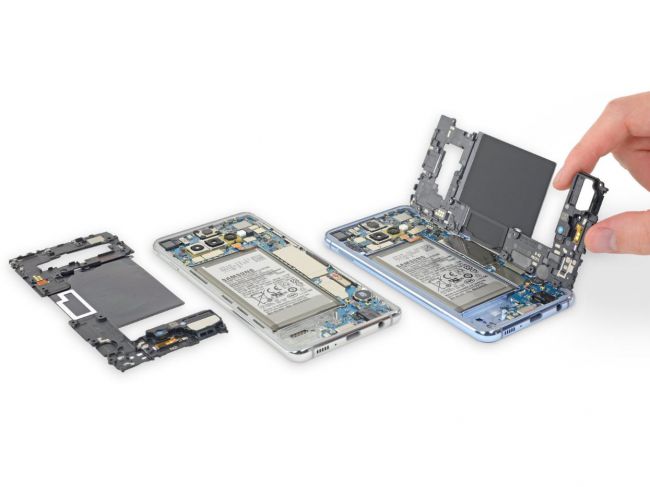 The video showcases that the Galaxy S10+ carries a strong battery which is stuck with strong adhesive, making it difficult to replace it. Similarly, its USB port is directly soldered on the motherboard, it means if somehow you damaged its port, then you have to fully change the motherboard. Further, a fragile backplate is present on the motherboard, if its disassembly is not done accurately, then it would obviously break and will result in another expense.
iFixit has given the Galaxy S10+ three points out of ten for repairability. It has joined the league of devices such as Pixel 3 and Huawei Mate 20 Pro. Last time, Galaxy Note 8, S8 and Galaxy S9 scored four points out of ten.