LineageOS is the most famous aftermarket Android firmware (custom ROM) available for smartphones. The latest iteration which is known as LineageOS 16 is based on Android Pie. This custom ROM brings all the sweetness of Android Pie along with additional features of its own. Here, in this article, we will guide you on how to install LineageOS 16 on Moto G6 Plus.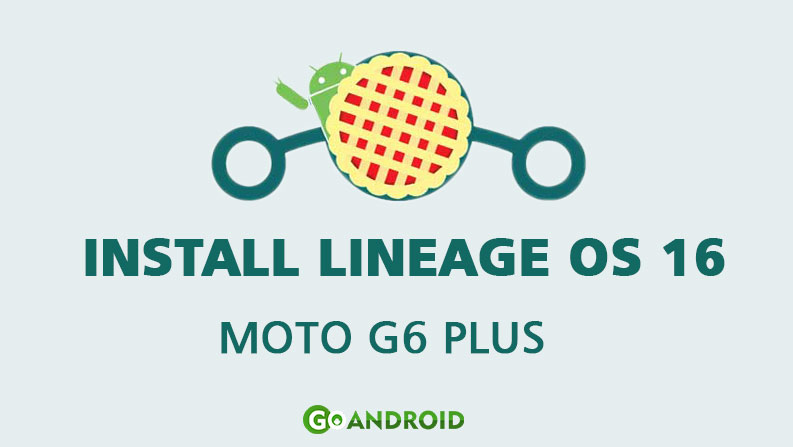 Thus, if you own a Moto G6 Plus and confused on how to install LineageOS 16, then you have come to the right place. We will guide you by providing step by step instructions to flash the latest LineageOS available for your beloved Moto G6 Plus.
Prerequisites
In order to install any custom ROM on any device, you must have the bootloader unlocked on that device. Also, you will require a custom recovery like TWRP (Team Win Recovery Project) to install custom ROMs and other mods. And hence, before proceeding to the instructions given below, unlock the bootloader of your Moto G6 Plus.
As Moto G6 Plus comes with A/B partitions, you must flash the copy-partitions-ab.zip file to avoid bricking of your smartphone. This is necessary if you are coming from the stock ROM. The link to download all the necessary files are given below, hence do not panic.
Moto G6 Plus LineageOS 16 Downloads
Note: Do not flash Open GApps as it is not compatible with A/B partitions.
How to install LineageOS 16 on Moto G6 Plus
Proceed with the below-mentioned steps only after unlocking the bootloader of your Moto G6 Plus and installing TWRP recovery in it.
Boot your Moto G6 Plus into TWRP recovery.
Backup your current OS (all partitions including EFS).
Copy that backup somewhere safe as it may need in future.
Now, copy the copy-partitions-AB.zip in your phone's internal storage or SD card.
Flash that zip through TWRP recovery.
Once done, perform Format Data which will be under Wipe.
Then, copy the LineageOS 16, MindTheGApps and LineageOS SU addon (optional – for root) zips to your phone.
Install the LineageOS 16 zip on your Moto G6 Plus and reboot recovery.
Now, install the MindTheGApps zip file. If you need root, then install LineageOS SU addon zip as well.
If all the above steps are performed exactly as mentioned, then reboot your Moto G6 Plus.
That's it, you have successfully installed LineageOS 16 on your Moto G6 Plus.
You May Also Like
How to backup Android phone without root access
Best root checker apps for Android
How to root Android Device using CF Auto Root
Important Notes
We are not responsible if anything goes wrong as the risk is yours.

Do follow the above steps as mentioned, else your Moto G6 Plus may get bricked.

Do not forget to flash copy-AB-partitions.zip file before flashing the LineageOS 16 zip.

Also, make sure to backup EFS partition to restore your IMEI if it gets wiped.
If you have doubt or query, then feel free to drop them in the comment section below. We will get back to you as soon as possible.