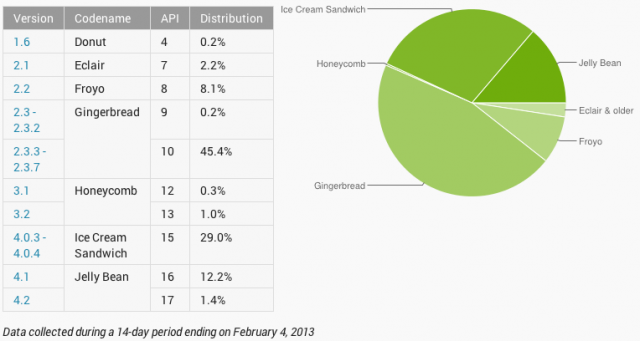 Google has outed last month's Android distribution stats. According to new char tits clear that Jelly Bean is growing and Gingerbread is declining. While Ice Cream Sandwich also saw dip of 0.1% in market share and Froyo also under 10% (as revealed last by December stats).
Android 4.1 + 4.2 Jelly Bean
Let's now learn about figures: according to latest report from Google Android 4.1 Jelly bean gained 3.1% of market share now totaling to 9.0%. Latest 4.2 Jelly Bean up to 1.4% gaining .2 percent last month. If we total both elly Bean version than their share increased to 13.6 percent may be due to Nexus 4 and Nexus 7 sales.
Android 4.0 Ice Cream Sandwich
Its now going down, don't know why. In December its share was 29.2% but last month it declined by.2% and now totals 29.0%. But still most of the new devices are coming on this ICS version of Android.
Android 3.x Honeycomb
Special version of Android for Tablets, 3.x Honeycomb stands at 1.3%.
Android 2.3 Gingerbread
Still most used and still holds the top spot with the market share of 45.6%. It was officially released 2-years ago and until now its the most popular among all Android versions. In December it went under 50% mark.
Android Froyo and Eclair:
Android 2.2 fell 0.9 percentage points (from 9.0 percent to 8.1 percent).
So others are mentioned in the pie char above mentioned. On which version your Android device runs?