Motorola is again going back to initial stages of smartphones. Hence the new Moto M pairs with 4.6″ screen instead of 5.5″ display like other Motorola device of current generation. The benchmark from GFX bench has spotted new Moto M with model number XT1662.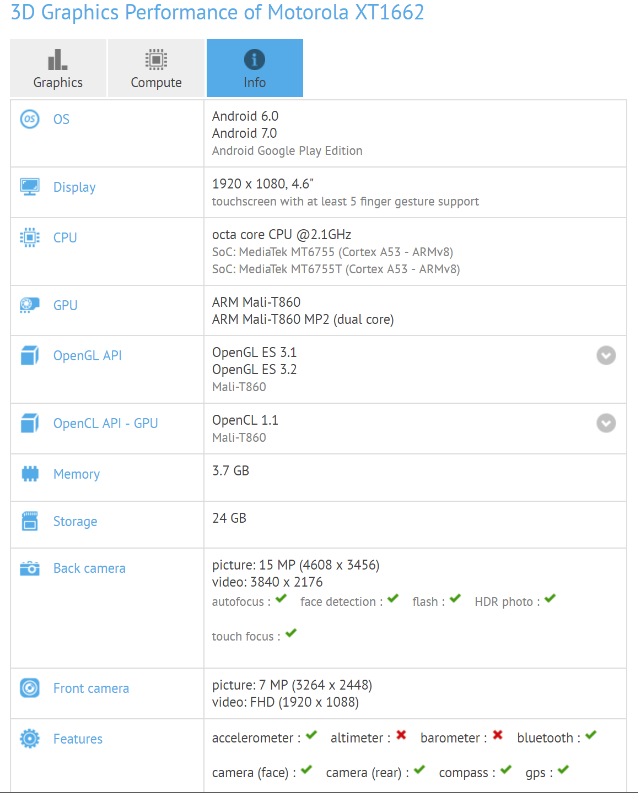 The first impression on the display states that it is of High Definition. So we can expect very clear HD display with new Moto M because of its small screen. The processor from MediaTek which powers new Moto M is 6755 Octa-core with four cortex A53 cores and four ARMv8 Cores. It is assisted by ARM-T860 GPU for better graphical experience.
As per GFXBench listings, it is features with 4 GB RAM and 32 GB internal memory. No wonder as it supports expanding memory like other Motorola and Lenovo smartphones via SD card. Camera specs include 16 MP rear camera and 8 MP front camera. New Moto M is expected to run on Android 7.0 Nougat and Android 6.0 Marshmallow with 'Android Google Play Edition' as tested. But it will raise serious ambiguity which version it will be launched finally.
The pricing of new Moto M seems to be $220 and the expected launch in October seems unclear without mentioning any date. We will notify you further updates via GoAndroid, hence stay tuned.