NewPipe is an open-source Youtube player without showing any ads for the Android OS. Now, it has been updated to v0.20.10  with new features, bug fixes and UI improvements. NewPipe serves as an alternative to Youtube. It explores the Youtube website, extract videos and plays videos on devices which do not have support for Google Play Services.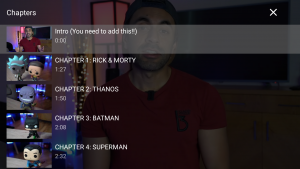 NewPipe v0.20.10 update
The new update is in support of YouTube chapters which was revealed by Google last May. The update allows users to quickly jump to specific sections of a video. It does not need to be scrolled with a seek bar. Presently, the update is rolling out in NewPipe and allows the user to click on the chapter button in the video to view the list of chapters.
Another update is the addition of two new buttons which allows the user to open the video in a Browser or share with other apps. There is also a "Play with Kodi" button in which the video directly streams to Kodi. There's also another button which allows the user to jump among comments, related videos and video descriptions at the bottom.
Sepia Search is a new search engine which is another new feature that was added to the update for PeerTube. A three-dot menu is located at the top right corner where Sepia Search can be accessed. It helps the users to discover videos published on PeerTube which is a free and localised video-streaming platform. 
Users of the NewPipe on their Android devices should receive a notification of the update by now. If not, you can download the latest version from Team NewPipe's Github page.
The update also brought many improvements such as reduced API requests, adding watchlist on Kodi, update displayed licenses and many.