The Samsung Galaxy A50 is now receiving the October, 2019 security patch in various regions. It's not uncommon for the security update to hit a device ahead of time. This time around, it's the Samsung Galaxy A50 which is the chosen one to get the next month's SMR update around a day earlier before the commencement of the next month.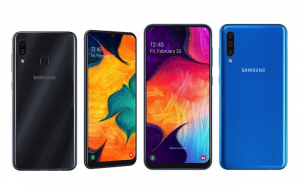 Carrying the October patch for the A50 is the firmware update with version A505FNXXS2ASJ1 in countries such as Switzerland, Kazakhstan, Ukraine, Uzbekistan, and a few countries in Southeast Europe. As one can deduce from the version number, the update is purely a security update. So, don't expect any new feature or UI improvements as a part of this release. Well, if you're wondering how, well the letter S in the XXS denotes security update. In contrary, the feature updates literally come with XXU notation. That's how Samsung update works in case if you're unversed.
As of what all security flaws are fixed in the October patch, we've to wait till either Google or Samsung to publish it on their respective Security bulletins. Here, it's quite interesting to see a device which is listed under Quarterly Update Schedule in Samsung's Update Policy website, getting more frequent updates than it's supposed to. Perhaps, it's something to do with the fact that the Galaxy A50 has been a hit with millions of devices sold within few months of it release and Samsung want its users to be safe from the latest exploits as early as possible.
That being said, if you own a Galaxy A50 and resides in either of the above mentioned countries, you may check if the update is available for you by going to the Settings app on your A50, tap Software update, then select the Download and install option. By doing so, you're fortifying you're devices from the latest exploits.