Samsung Galaxy S8 and Galaxy S8+ is yet to be launched on 29th March 2017. But still we know almost every thing about both the phones. Now the pre-orders of Galaxy S8 and Galaxy S8+ from Target Ads get Leaked with which you will get Free Gear VR + $100 Gift Card.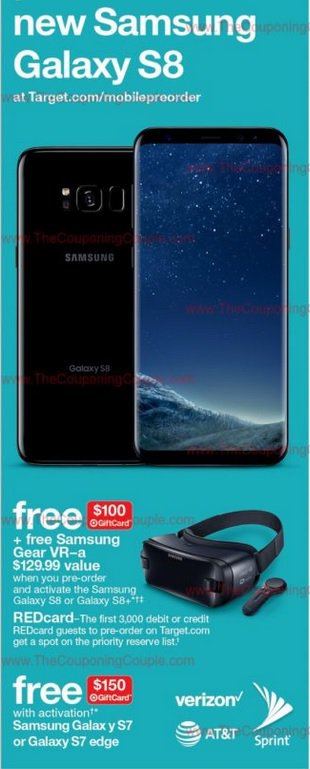 This leaked ad is genuine because last year those who purchase the Samsung Galaxy S7 or Samsung Galaxy S7 edge via Verizon device payment, AT&T Next, or Sprint's 24-month Installment plan, will receive a free $150 Target gift card.
According to the previous leaks and reports, Galaxy S8 is packed with Qualcomm Snapdragon 835 and Exynos in some areas, 4GB of RAM, 64GB of expandable internal memory, IP68 certification, Gorilla Glass, and high dual camera will be the main features of the new Galaxy S8. In terms of battery backup, 5.8-inch variant is backed by 3000 mAh battery, while the bigger 6.2-inch variant is backed by a 3500 mAh battery. Both the devices might come in Violet color also.