From day one itself, the PUBG Mobile has been the sensation of the youth and Millenials. The popular battle-royal game is due for another significant update starting from 19th February. Sometimes bad things have to happen before good things, and it seems true in the case as well. Because the PUBG Mobile is going to undergo server maintenance to make way for a new update. Thereby, you won't be able to play your favorite game on 18th February, that is tomorrow.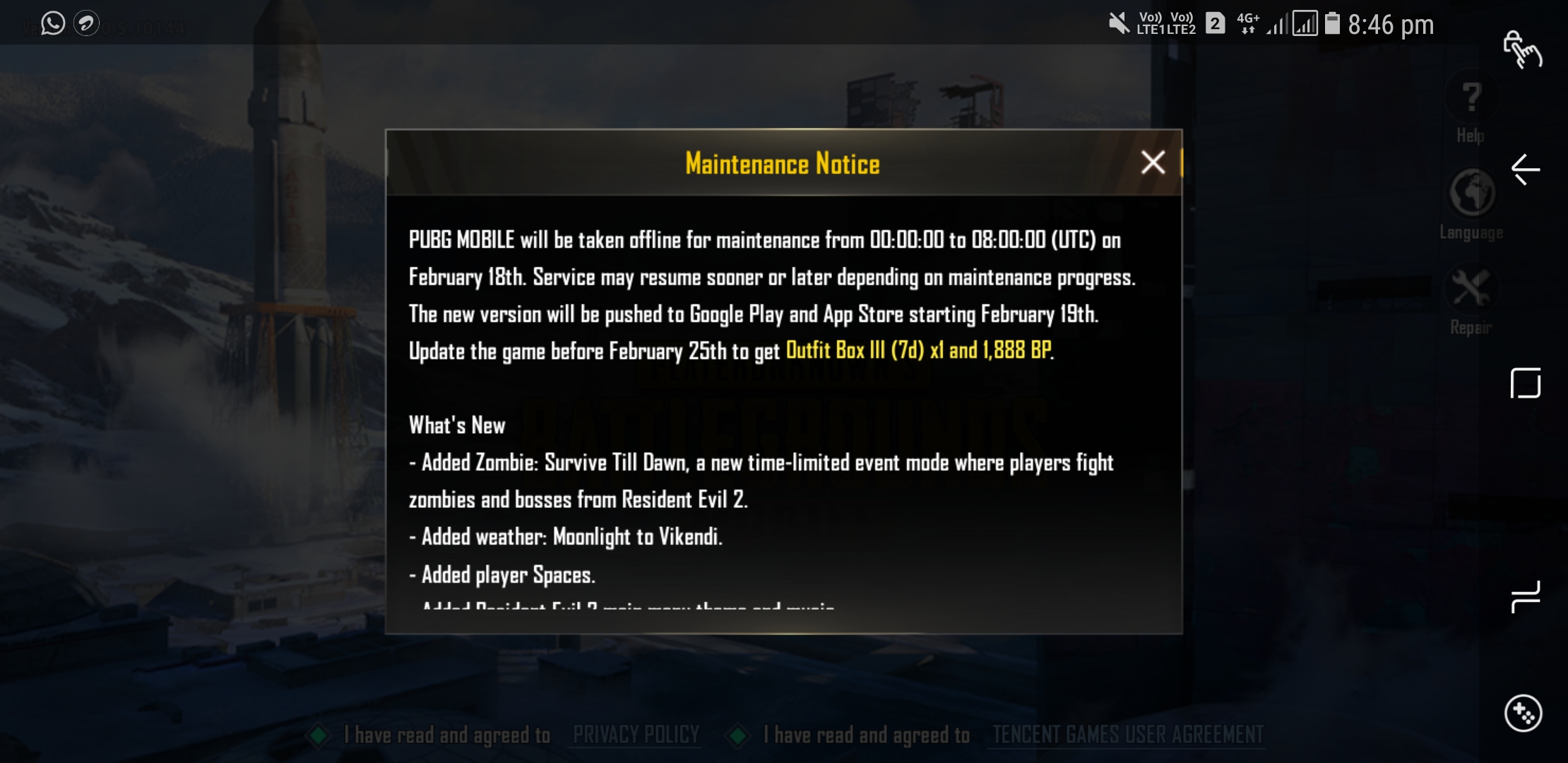 If you open the PUBG Mobile on your Android device, you'll be greeted with a notice explaining the server maintenance and the changelog of the resulting update. As per the notice, PUBG Mobile will be taken offline for maintenance from 00:00:00 to 08:00:00 UTC on February 18th. Also, it mentioned that the new update would be pushed on the Google Play Store immediately after the maintenance is successfully done.
The PUBG Mobile for Android is now on its 0.10.5th version. Plausibly the next update is going to be 0.11.0, and the changelog given in the notice reveals the following key changes.
PUBG Mobile upcoming update: What's New
Added Zombie: Survive Till Dawn, a new time-limited event mode where players fight zombies and bosses from Resident Evil 2.
Added Weather: Moonlight to Vikendi
Added player spaces
Added Resident Evil 2 main menu theme and music
Sanhok is now available in Arcade – Quick Match
Misc Improvements
Past Results are now kept up to 1 month only
Fixed terrain display bugs for budget devices
As per the changelog, the update is going to be a hit and capable of hooking the PUBG addicts even deep into the world of battle royal. Let's wait and see how the upcoming update with the Resident Evil theme makes the users happy and engaged.