Google rolls out a new recharge feature in its search in India. In India, there are 1.1 Billion mobile phone user out of them 95% are prepaid users. The users take different ways to recharge and now Google makes it very simple. As you need to search "prepaid mobile recharge or SIM Recharge" after that you will see prepaid plans of various carriers.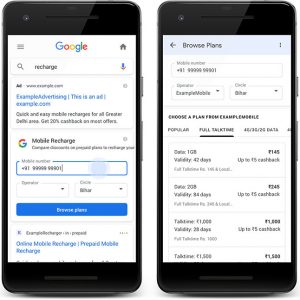 How to use Google's new Mobile Recharge feature
Enter the mobile recharge related query in Google Search. You will see a mobile recharge card will open in the Google search.
In the input fields enter your phone number and browse the Prepaid plans.
Select a Plan with which you want to recharge. You will see the various modes of payment, select one to complete the recharge.
 After the completion of recharge tap on the "back to google" button to go back to search page.
Also Read: How to change Google Home EQ settings
It includes the plans from Airtel, Vodafone-Idea, Jio and BSNL. The new recharge feature is currently available for limited users. It will be rolled out to all the users in a few days.
For more leaks, reports, how-guide stay connected with us.