With much fanfare, Samsung unveiled new Galaxy S10 devices at a Samsung Unpacked Event a couple of days ago. The different cameras and Infinity-O display were some major advancements that Galaxy S10 devices carry. Today, a popular rating agency DxOMark has published their scores for Samsung Galaxy S10 and S10+ devices. As per the DxOMark Galaxy S10+ matches the score of Mate 20 Pro and P20 Pro i.e 109.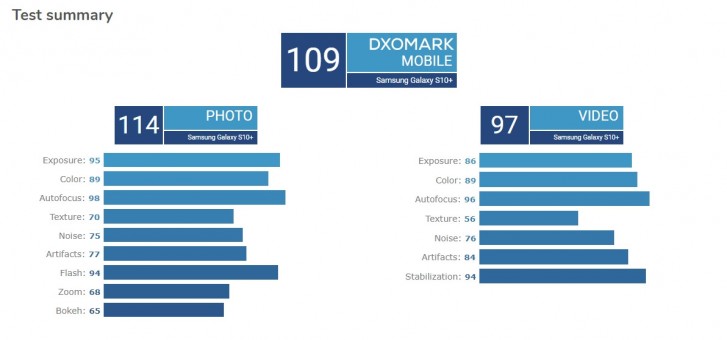 In detail, Samsung Galaxy S10+ triple camera shooters have made it score 114 in photo snapping. It managed to score 97 in video recording as like of the Mate 20 Pro and P20 cameras. Further, the Galaxy S10+ has managed to outscore all the devices except Pixel 3 in selfie-taking.
The Samsung Galaxy S10+'s ability to expose the photo in different backgrounds has made it score a good rating in the picture taking department. DxOMark gets impressed with its ability to autofocus on the objects along with a good amount of light through flash.
Despite the positives, DxOMark also marked some negatives of the Galaxy S10 camera. The testers at DxOMark pointed loss of fine details and sharpness while taking pictures and recording videos.
Overall, the Galaxy S10 and Galaxy S10+ fared very well against the competition. It will be marked among as one of the best camera phones throughout the year. These are very satisfying Galaxy S10 DxOMark scores.
(Source)