Samsung is actively working on the OneUI 5.0 Beta version for the Galaxy S22 series, and the stable rollout is expected this October. However, most of the OneUI 5.0 features are already known to the rest of the world, but small tidbits are yet to uncover. However, a similar feature which is long-awaited on Galaxy flagship devices, but already available on some mid-range Galaxy smartphones i.e Camera Watermark Feature is finally coming via OneUI 5.0.
Must See: Samsung Galaxy S21 might not get the Detail Enhancer feature
As like we have seen on OnePlus, Xiaomi, and other brands' smartphones, the ability to put a watermark of your name, date and time on pictures captured via mobile camera is quite prevalent. The users of the Galaxy S22 series are also demanding the same feature, and it seems the Korean giant is now paying heed to the demands. The feature is recently confirmed by the Camera head of Samsung via Community Forums while replying to a user asking for the feature.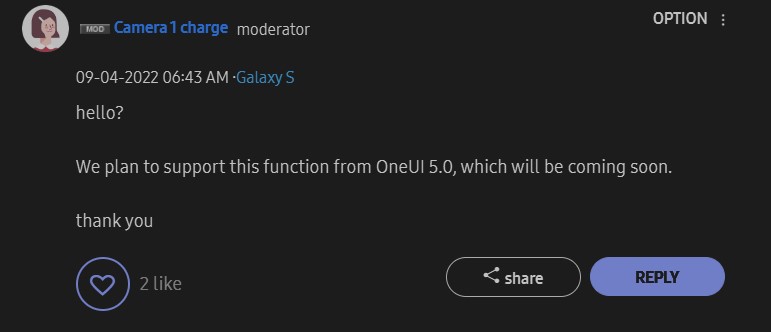 In a reply to users asking, "Is there a function to display the recording time at the bottom or top of the screen when taking a picture or video with a smartphone?" (translated), the Camera in Charge replied, "hello? We plan to support this function from OneUI 5.0, which will be coming soon. thank you" (translated).
The long-awaited Camera Watermark feature is going to debut with the OneUI 5.0 update on Galaxy S22 series. It is worth considering adding this feature as nowadays people love to print time stamps and names on the captured photos.