Samsung recently detailed its ambitions to quip the Galaxy S22 series cameras with more competitive features such as Hyperlpase mode using a telephoto lens, etc. Even, the Galaxy S21 users are excited about the upcoming features as the Korean giant is working to bring new camera features to the old devices too. However, there's a catch as the old devices won't get all the new features due to some hardware constraints.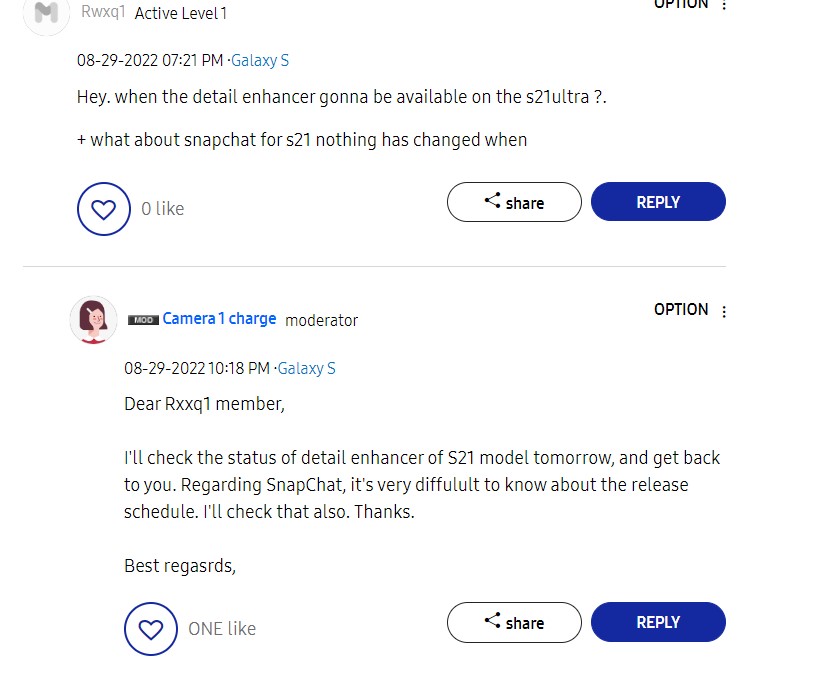 Related: New Galaxy S21 FE variant (SM-G990U2/U3) arrives on FCC, with 5G support
Similarly, the Galaxy S21 users would feel bad to hear that the popular detail Enhancer feature won't be making it to their devices anytime soon. As per a Samsung Korean Community moderator's reply to a user who asked for the feature on the Galaxy S21 series. In a reply, the moderator said, "Regarding detail enhancer for S21, we still have been in trouble to optimize the AI ​​solution. NPU performances are different between S22 & S21, and take much more time in S21 now. We will try more, but I'm not sure when we can support the feature for S21. We will future update to you when we have some additional progress. Thanks." (Translated)"
It seems there are some hardware restrictions as the NPU performance of the Galaxy S22 is not adequate for the feature to run optimally. It is a setback for the users as it's been just a year since the device's launch. The whole scenario questions the hardware incompatibility with features which are just a year old.
In a similar incident with the Galaxy Note and Galaxy S20 series, the HDR on/off feature is under review for ages, and that is also due to the hardware issue.
Related: Samsung pushes June 2022 Security patch for Galaxy S21 Series!
Samsung will push the camera update to Galaxy S21 carrying features such as Hyperlapse with Telephoto lens and QR code scanning improvements.