As the Galaxy Note 10 and Note 10+ have started to reach their pre-ordered customers and some on the way, Samsung makes sure that the customers get best out of it. The latest Note 10 Series sets a new standard for the Galaxy flagships by ditching the headphone jack. Of course not everyone is happy with the deed, nonetheless, we have no choice other than to welcome the wireless audio future or what others sarcastically say as the Dongle Life.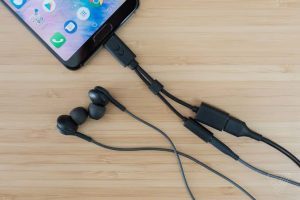 The Galaxy Note 10 and Note 10+ feature USB 3.1 Type-C port which can be used for connecting wired earphones. But as you know, due to the lack of a dedicated audio port heavy users or those who consumes media a lot won't be able to listen to music and charge the device at a time. Here comes the importance of a Dual Type-C adapter or if gone by Samsung's infamous Ingenious ad – a "double dongle".
Whether you hate Samsung or not for all these mess-up regarding the 3.5mm, the Korean-Giant has now come up with a notice showing disapproval for using a double dongle on their devices for listening music and charging simultaneously via Type-C port.
Dual adapters that don't meet the USB standard are
especially likely to cause defects, so it is recommended that
you don't use those adapters.
As per a notice posted over at Samsung Members app, Samsung addresses the potential issues that can occur due to unsafe Dual Type-C adapters. In a sense, it's quite a welcome move from Samsung giving heads up to the consumers. On the other hand, it'd feel lame as why didn't Samsung keep the headphone jack if it's too concerned about the issue that can result if a user "multitask" on the Type-C port.
Whatever may be your take on this matter, the precautions that Samsung has posted over the Members app is worth the attention. Since the Galaxy Note 10s support super fast charging, it wont be wise to connect a wired headphone while charging – not a rocket science but common sense. Samsung on its post says the same.
That being said, here is the screenshot of the notice from Samsung Members app.
Note that, Samsung says not to use unsafe double dongles of poor quality and don't meet the USB standards. However, we at GoAndroid recommend our readers to completely avoid dual dongles of any quality or standard. Especially on devices such as the Galaxy S10(has 3.5mm jack though) whose USB port is fused to the main board. Which means, if somehow the USB type-C port is damaged you'd have no choice but to replace the complete motherbaord which will cost a grand. Or else live the rest of the life with wireless charging which these devices support fortunately.