Sony, which is the main supplier for the camera sensors to the device manufacturer in the whole world. Sony is best known for its image sensors that are producing stunning quality pictures until now. To add to those stunning qualities, Sony has introduced new CMOS Sensor with some additional changes.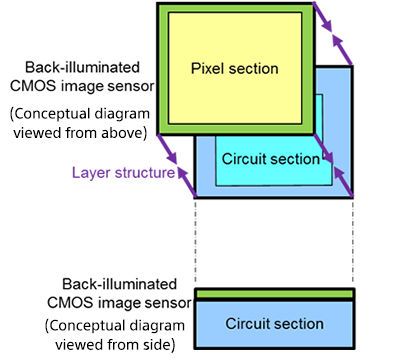 Nowadays, every smartphone manufacturer want to embed fast and best camera in their devices. Even some high end smartphones can add up to 240 frames per second to any video. Their slow motion video and all other imaging features are seriously taken care of with high end camera sensors. Most of them use Sony's sensors.
In evolution of camera sensors, Sony has developed its first 3 layered CMOS sensor. Until now, camera sensors used 2 layers – one for sensor itself and other one for the chip which process the image. This time Sony has added the third layer that for DRAM. Well what's the use? The added memory allows Sony's new sensor to process a still image of 19.3 MP in only 1/120 of a second.
It means we can take image of moving object with minimal distortion. It made camera 4x faster than the previous model of the Sony CMOS sensor. Watch the video below to know more:
As said above nowadays, flagships record slow mo videos at 240 frames but this camera would allow you to shoot slow mo videos at 1000 frames per second.
There are many unsaid features also. We can't wait for this CMOS sensor to get into any device.