A port serves as a link between computer and external devices. There are different types of ports on our devices. Slowly, these ports are disappearing from our smartphones and other gadgets. Brands are moving towards a unified port like a USB C port on both smartphones and laptops. These ports can be called either a jack or socket. So, let us look into the details of ten existing ports which are common in our gadgets.
Different Computer and Mobile Ports and USB Cables
Ethernet Port
An Ethernet port is a port that we can see in CPUs, laptops, routers, modems, video game consoles, and televisions. It is where you will plug in your ethernet cable. That is, it is the port where you can plug your RJ 45 connector. As you guessed, it is the port that will help you connect to your wired network in LAN (Local Area Network), Metropolitan Area Network (MAN), and Wide Area Network (WAN). That said, it will help to connect to your PCs in the office with each other. So that everybody can access files shared in that network.
These PCs will be connected to a central server, and it will allow communication between different devices connected to the same server. Further, using ethernet ports for internet connection will provide you with better speed and stability. I always use ethernet connections for online exams because it is advised to do so.
HDMI Port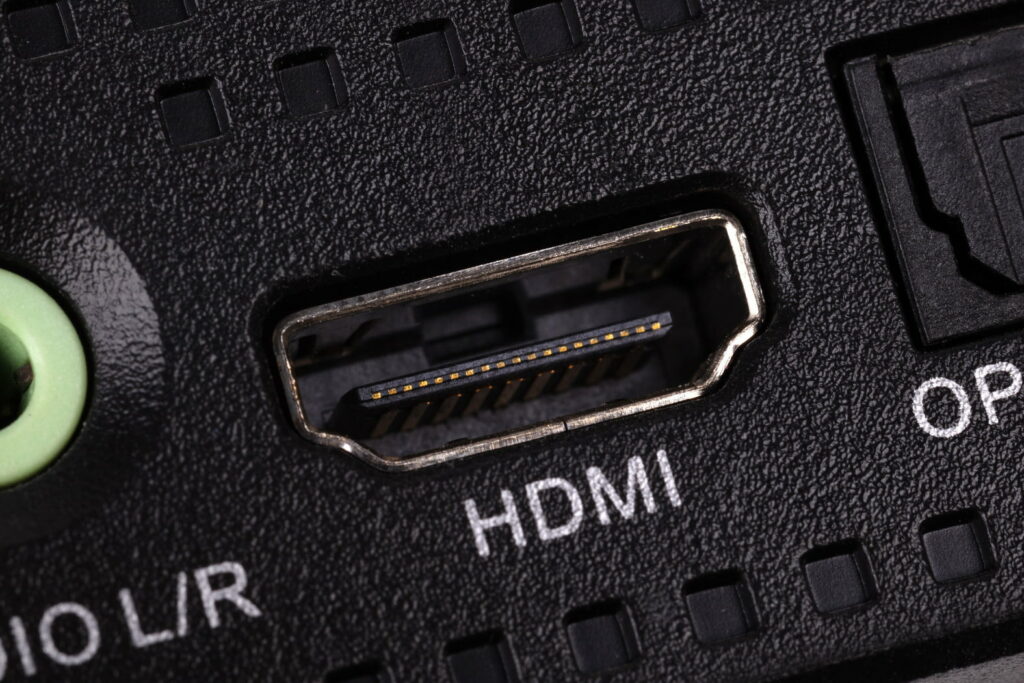 The high-definition multimedia interface ports are popularly known as HDMI ports. These ports will help your device to transmit uncompressed audio or video or both to an external device. The HDMI port replaces the old display port that doesn't transmit audio along with the video. These ports can be found on set-top boxes, TVs, gaming consoles, laptops, soundbars, and many others. Apart from the standard full-sized HDMI port, there are few other ports named mini-HDMI and micro-HDMI. But these ports aren't standard these days, can be found on limited devices. Also, different full-fledged HDMI ports supporting different resolutions and refresh rates. That is, the difference between these ports lies in their transferring speeds. The wires we used to plug into the HDMI port have the same plugs on both sides.
Micro USB Port
Most Android smartphones, tablets, and other gadgets came with micro-USB ports till 2020. It had the name micro because it is smaller than other USB ports like the USB type A and type B ports. There are different micro-USB ports like the micro-USB 2.0 and micro-USB 3.0. The thing is that the 2.0 port will work with regular USB type-A ports and with USB 3.0 ports. But the micro-USB 3.0 won't work with standard USB type-A ports. The micro-USB cables usually come with a different plug to the other side. Usually, it comes with a regular USB plug to the other side. The micro-USB cables are most likely to damage within a year or so. The reason for this is that the plugin the cable will 
Audio Port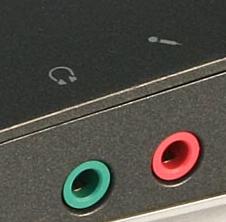 Audio ports are those ports where you plug in your speaker, headphone, or earphones to enjoy music or movies. Most CPUs out there came with two ports, i.e., one for audio out (Audio Port) and one for audio, known as Mic port. These audio ports were painted in lime green to distinguish them from the mic port. I remember one of my headsets from 2009 had two wires. One of them was for mic and the other for audio. But these ports were later combined, and laptops and smartphones came with a single port known as a 3.55 headphone jack. Here we could plug both our earphones and mics. Even though these jacks are now disappearing from our gadgets to make way for Bluetooth audio devices.
Mic Port
As said above, there were two ports, and the second was exclusively for audio input. We used to plug in mics in these ports. The Mic ports were painted in pink color to distinguish them from other ports. Old headphones came with two cables where one was for plugging into the mic port. Do you still have those headphones with two output lines and want to use them with your laptop or smartphone or any other device that has a combined audio jack?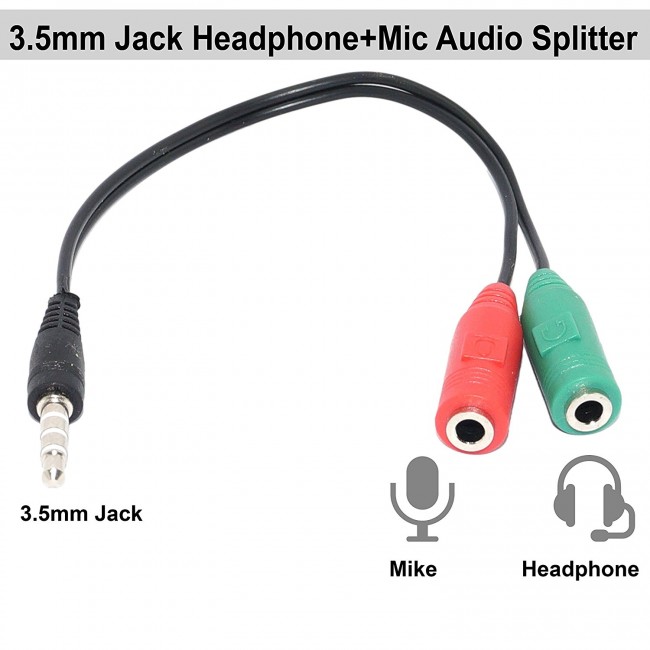 For this, you purchase adapters which are available on Amazon with a 3.5mm audio plug. You can plug them into your smartphone and enjoy music. Otherwise, if you insert the audio out plug, you can't use the headset during calls. You will have to disconnect the headset and speak.
USB Type-A Port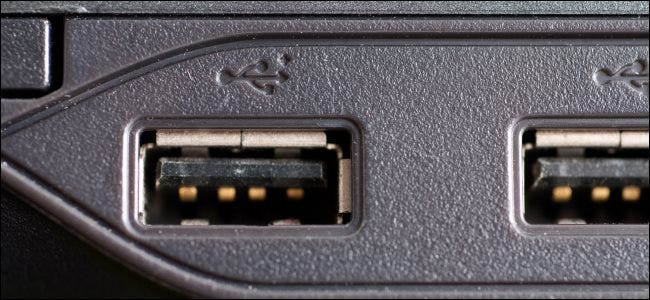 These ports are seen on every desktop, laptop, TV, some routers, and another device. The protocol of these ports is USB 2.0, and it can transfer at a speed of 480 Mbps. Even though the USB 3.0 ports have more pins and come in blue color, you can connect your USB 2.0 cables to those ports. Most of the wires which we used to connect to other types of USB ports usually come with a USB type A plug on one side. You can connect every device to your PC using the USB type-A port. These ports are known as universal ports because it is found everywhere. It is also the largest USB port out there.
USB Type B port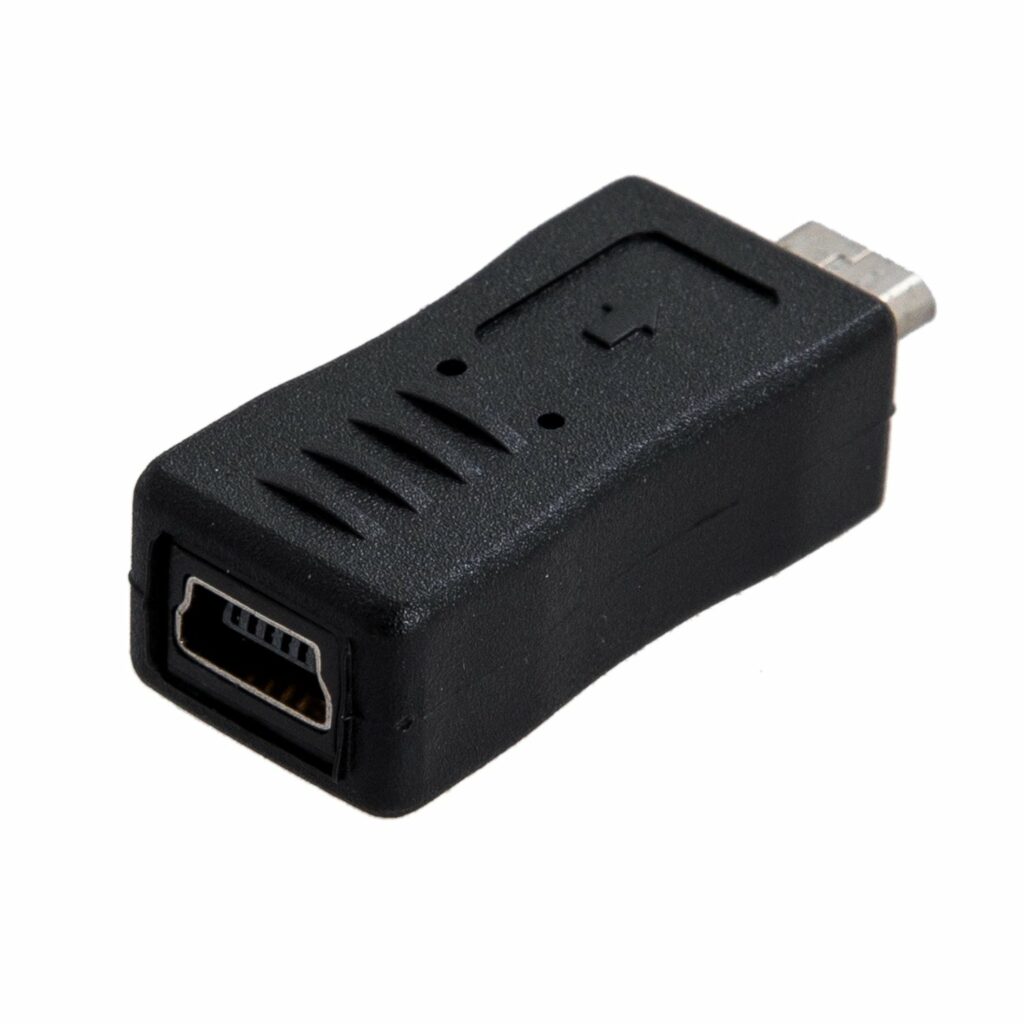 The USB type B ports are most commonly used to connect printers and docking stations to desktops and laptops. The cables which used to have type B plugs come with a USB plug to the other side. The type B plug is squarish in shape and has bevelled corners on the top end of the plug. And there are different Type B ports. The first port supports USB 1.1 & 2.0-speed protocols, and the other port supports protocols starting from USB 3.0. Apart from printers, these can be seen on some other peripherals we used to connect with our PCs. These ports will also be replaced by other ports in the future.
USB 3.0 Port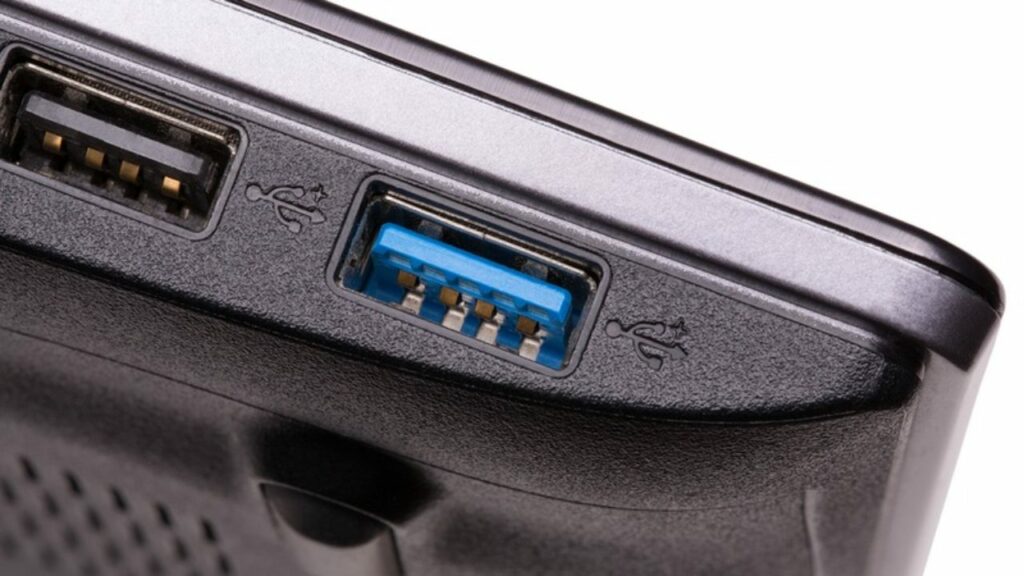 The USB 3.0 ports are the upgraded version of USB type-A ports with better transferring speeds. It can transfer at a rate of 5 Gbps and is ten times faster than USB 2.0. It is now common in most laptops out there. These USB 3.0 ports are commonly known as SuperSpeed ports. Even though it looks similar to the USB Type-A ports, it has additional pins and will be painted with blue color. The addition of blue color is to distinguish it from the regular USB 2.0 ports. It has a total number of nine pins. These ports are compatible with USB 2.0 devices. But it will not work vice versa, i.e., USB 3.0 cables won't work with USB 2.0 ports.
Mini USB Port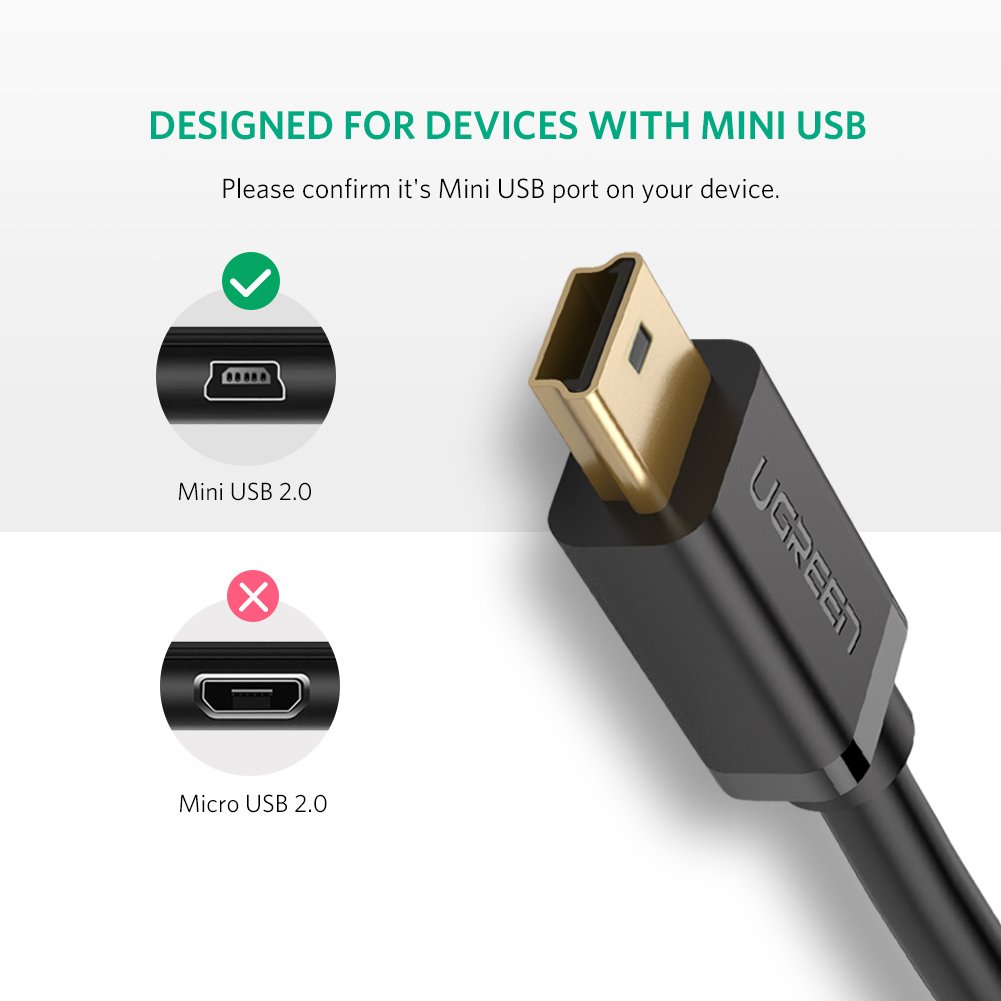 The Mini USB ports are mostly seen on old cameras, external hard drives, game controllers, USB hubs, and other devices. These ports are smaller in size when compared to USB type A ports. At the same time, it is double the size of Micro USB ports seen on smartphones. The mini-USB cables usually come with a USB type A plug to the other side. These ports are not that common like other USB ports. So, if you own a device with this port, make sure to carry the cable because you may not get the cable everywhere. Like we said with other ports, these ports will also be replaced with USB-type C ports in the future.
USB C Type Port
The USB C type port is slowly replacing ports like micro-USB in smartphones and other gadgets. The USB C ports are often mentioned as the port of the future. Apart from USB Type-A ports, all other USB ports will be replaced with USB type C ports in the future. It will enhance convenience, and one cable can be used to connect all devices. The C ports are smaller and thinner in size. Earlier, only MacBook used to come only with type C ports. But now, most laptops feature only USB C type ports.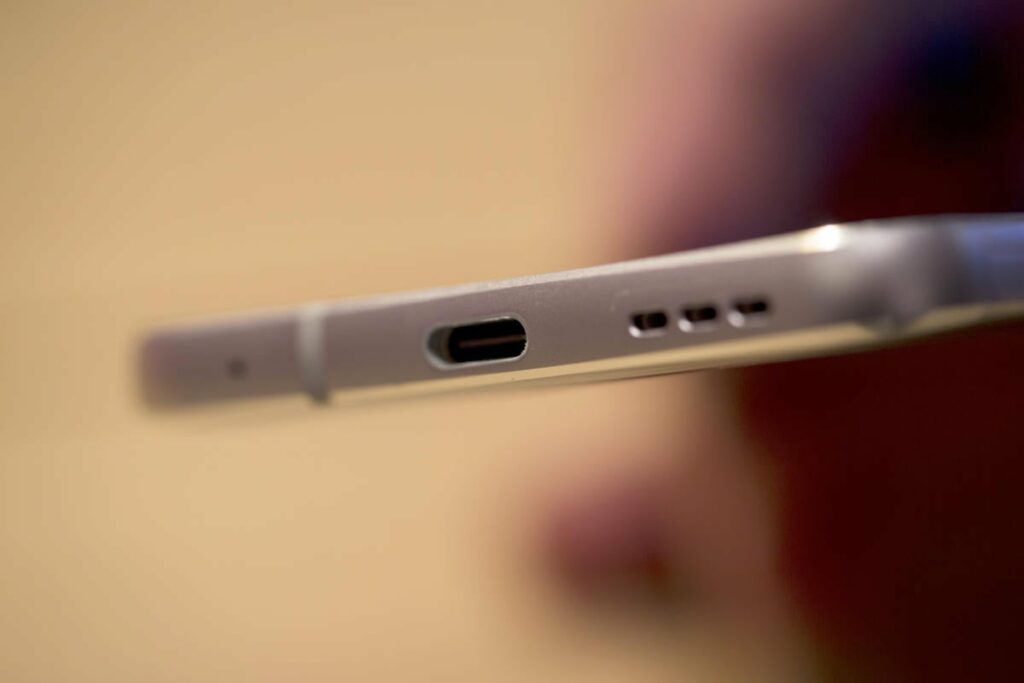 The main advantage of the USB C type ports is that we can plug the cables in both ways. That is, in all other ports, you might have to plug in a specific position. The reason for this is the symmetrical design of the USB type C plugs. There are two types of USB C type cables, i.e., one which comes with the same plug to the other side. And the other cable that comes with a different plug, i.e., a USB plugs.
That's it; we have explained about the most common ports out there. Would you mind sharing the article with your friends and family members? Since most ports mentioned in the article have started disappearing, some may not know about these ports. So, it will help them learn about the wide variety of ports that were once present in our gadgets.