A few months back Xiaomi has launched its Mi A1 smartphone in India. It was the first cell phone from Xiaomi that is based on the Android One project. Being an Android One powered device this handset was among the few phones that have received the Android Oreo update even before some flagships. A ton of software development has been done for this handset due to which many of us has rooted this smartphone.Well, this guide will allow you to Unroot and Unbrick Xiaomi Mi A1.
Rooting gives you next level liberty but at the same time, it contains a risk of bricked devices. If your Mi A1 is suffering from Boot loop or is bricked then you have arrived at the right destination. In our today's story, we will be telling you the easiest method by which you can unbrick your Mi A1 handset.
Pre-requisites
1.) Your smartphone's drivers should be installed on PC/Laptop.
2.) Mi Flash tool should be pre-installed on your PC/Laptop.
3.) The bootloader of the Mi A1 should be unlocked, we know that if your device has stuck then there is no chance to perform it any way you can still try this method.
You may also Like 
How to Root Xiaomi Mi A1 without using a PC/Laptop
How to unroot Xiaomi Mi A1 back to Stock Android Oreo
How to Unroot and Unbrick Xiaomi Mi A1?
1.) Firstly download the Mi A1 stock ROM from the below-given link on your PC.
2.) Now extract this file with the same name.
3.) After extracting you will find a file with the same name but with no extension. Just add a ".zip" extension to it and again extract it.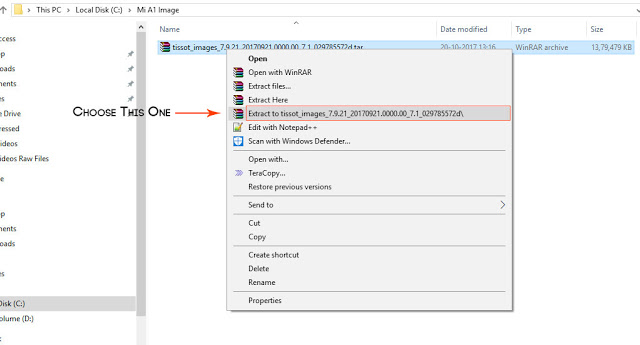 4.) Now open the folder that appears after extraction, again it will contain a folder named as "tissot_images_7.9.21_7.1″.
5.) Copy and paste this specific folder into C drive of your PC.
6.) Now boot your Mi A1 device to Fastboot mode(long press Vol down+Power button) and connect it to PC via USB cable.
7.) Now open Mi Flash tool on PC and select the Refresh option.
8.) This will now detect your Mi A1 handset.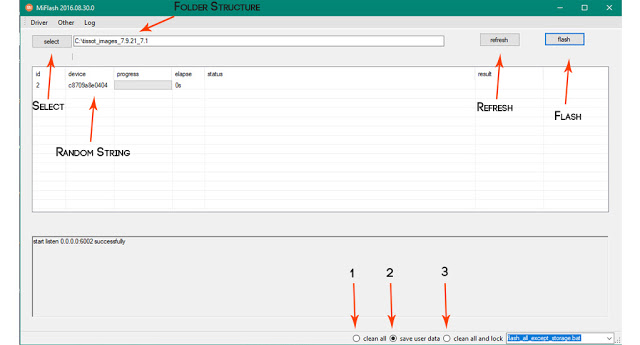 9.) Now click on the select option, here locate the file which you have pasted on the C drive.
10.) In the bottom section of Mi Flash tools, three options will be displayed: Clean All, Save User Data and Clean all and Lock.
11.) Select "Save User Data" option if you want to unroot your device and want your personal data like Music, Videos to be retained.
12.) Select "Clean All" option if you want to delete all data included personal data and device's data as well.
13.) Select "Clean all and Lock" if you want to wipe entire data and want to lock bootloader again.
14.) Select the above option as per your requirement and click on the flash button. It will hardly take 5-10 minutes to complete the process.
15.) Your device will now take a while to boot and you are done.
Downloads
Stock ROM for Mi A1 Download
Mi Flash tool for PC Download
This is a guide for Unroot and unbrick Xiaomi Mi A1. For the time being you can also see the articles below.
You may also like these Xiaomi Mi A1 Related article
How to Root Xiaomi Mi A1 and install custom recovery running Android Oreo
How to Revert back to Android Nougat on Xiaomi Mi A1? 
How to resolve Xiaomi Mi A1 Dialer App bug running Android Oreo
Best custom ROMs for Xiaomi Mi A1 
[ROOT] How to change Xiaomi Mi A1 font
This method will probably work for most of the users but still if you find any difficulty then do let us know in the comment box below.