Are you a constant remote user and have a lot of remote controllers? Then Peel Remote for Android can help the users solve a lot of problems. It is a one-stop app to manage all your devices like TV, Stereo, and other appliances via an Infrared packed smartphone. The remote Peel application is quite useful in handling every device that supports the Infrared sensor. So, without wasting any more time, let's head over to know what is Peel Remote app and how to use it and also learn about its merits and demerits.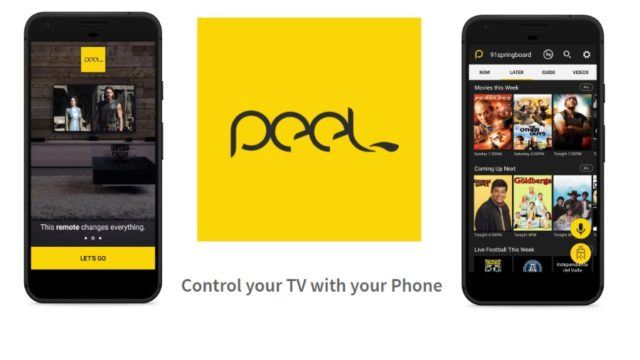 What is Peel Remote app?
It is an application available for Android devices to control televisions, stereos, cd players, amplifiers, smart speakers and a lot more. The app uses the smartphone's Infrared sensor that enables it to point infrared waves towards the receiver present on any home appliance. It is easy to configure the application and can be used across any device. Peel Remote app also offers connectivity via WiFi connection if you own a smart TV or any other smart appliance.
However, there are several other applications to remote your infrared-based smartphones, but the Peel remote application offers vast support for devices. It is a perfect companion if you've lost remote of any appliance. The app offers easy setup within a minute. It is quite an easy process to connect the Peel Remote app with your devices via IR or WiFi.
It is a competitor to the Samsung TV remote app, which actually hogs a lot of battery. However, to overcome the issue, the Korean giant availed users with an option to switch it off. Meanwhile, the users switch to the Peel Remote app to gain functionality without affecting any battery life.
Features of Peel Smart Remote App
Intuitive User Interface: The app offers a smart graphical user interface with easy navigational features. The user can easily connect and use the app with any physical device wither via WiFi or Infrared sensor.
Comprehensive TV Guide: Apart from connecting your favorite devices, the peel remote can let you stream different shows and episodes. The user can look for what's trending and recently watched category. It also offers personalized recommendations.
Easy Setup: Peel Smart Remote offers a hassle-free setup of different remote controllers easy. You can easily choose between different TV, Set-UP Box, Amplifiers, etc.
Direct Cast to TV:  The app offers direct content cast from Youtube content for live streaming devices, such as Roku and Chromecast.  It even supports voice assistant for the touchless experience.
Steps to use Peel Remote Share App
Using IR Blaster
Download and Install Peel Remote app
Add Your Device either using IR Blaster or WiFi connection.
If using IR Blaster, then select TV or tap on other devices if you want to add any other appliance.
Now, point your smartphone towards the applicant to test the power button if the pre-defined frequency is working or not.
Once it works, set up other buttons and save it.
Now, you can use the Remote easily to control your appliance.
Using WiFi
Peel Remote even works with Wifi technology to connect smart TV.
Turn on the device you want to connect and make sure it is connected with the same wifi connection.
And then tap on Scan Network.
That's it.
Well, that's the best application to control your analog and smart device either via an IR blaster or WiFi. If you have any questions, then let us know. We hope you have got to know about what is peel remote.