It's been a year since Xiaomi announced the Band 7 in May last year. So, here's the Xiaomi Smart Band 8 which appeared as M2239B1 on SIRIM Malaysia. The certification confirms the name and hints at the imminent launch of the new band. Apart from its listing on the Malaysian Certification agency website, the Xiaomi Smart Band 8 also appeared on NRRA Korea.

Must See: Honor Band 7 Launched with AMOLED Display and Big Battery Life
The Band 8 production has already started and is reportedly coming alongside the Xiaomi 13 Ultra. However, speculations are rife about its launch, but Xiaomi will not the Xiaomi 13 Ultra and the Band 8 before the end of this month.
Apart from the moniker confirmation, and some general information, there's hardly any evidence about specifications in both listings.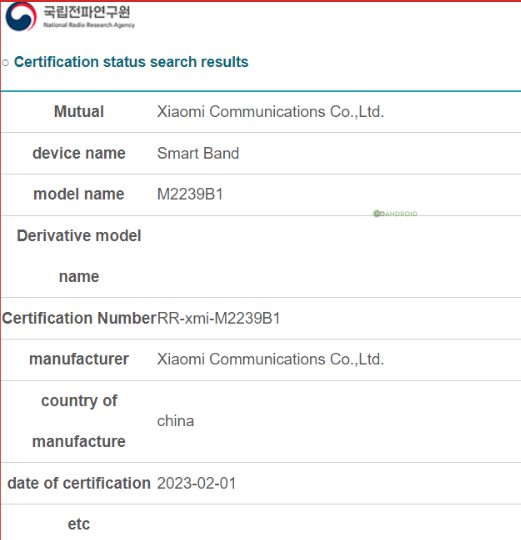 The affordable Xiaomi Smart Band has a huge market across the globe, and users always look towards the new version of the device every year. However, there is hardly any information about the upcoming Band's information. We expect more leaks and certification approvals in the coming days.