Xiaomi is working pretty hard and is bringing many smart devices for consumers. They have things from smartpen to smart cycle. They are carrying smart version of every household thing. The biggest market of the Xiaomi is still the smartphones.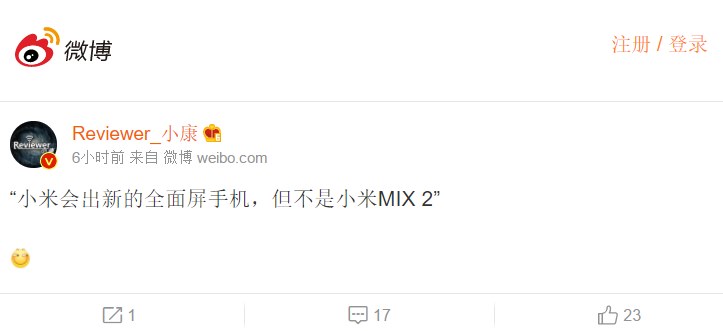 They are experimenting a lot in this section, already they have some up with the first full screen device, Mi MiX. Now, the rumors are hat the new veresion of the same, Mi MiX 2 is in works.
Today, in inversely proposed news we have got to know that Xiaomi is working on the nearly full screen display but it is not mi MiX 2, it's some other device. What does that mean? Did Xiaomi ditched the MiX series, or they are coming with couple of full screen devices.
The news is coming from China via Weibo user, who revealed that Mi MIX 2 won't be the first full screen device. There's going to be another smartphone.
Let's see who surfaces the first full screen devices, as LG is also cooking some recipe for the full screen device, purportedly LG V30. As some rumors are already in the air regarding it.
We have another nearly full screen device i.e the Essential Phone from Andy Rubin, which also showed its slim curves with 90% screen body ratio.