Every year Amazon comes up with a Bumper sale for its customers and this year again the E-commerce giant is back with the Great Indian Sale. The Sale starts from 12:00 am on May 11 to 11.59 pm on May 14. Amazon is offering up to 80% off for a wide range of categories. There are cashbacks, discounts, deals, and the chance to win Rs. 1 lakh every hour. Of course, Flipkart has a sale of its own lined up as well. But here we will cover the top deals on smartphones accessories and tablets.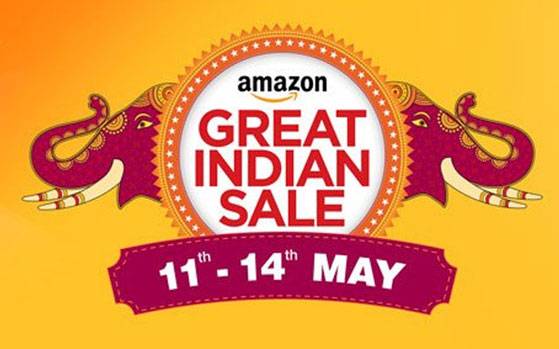 Moto is giving away smartphones at up to 40 percent discounts. There will also be discounts of up to Rs. 2,450 on Samsung smartphones, up to Rs. 3,000 on Lenovo smartphones, ad Rs. 1,000 on Coolpad smartphone. So without further ado, let's take a look at the deals.
Samsung On5 Pro (Gold) Rs.7,240.00
Samsung Galaxy C7 Pro (Navy Blue, 64GB) Rs.25,990.00
Samsung Galaxy On8 (Gold) Rs.12,74 0.00
Samsung Galaxy J7 (Gold) Rs.10,990.00
Samsung Galaxy J2 4G DUOS (Gold, 8GB) Rs.7,350.00
Apple Smartphones Best Price During Amazon Great Indian Sale
Apple iPhone 6 (Space Grey, 32GB) Rs.26,499.00
Apple iPhone 5s (Space Grey, 16GB) Rs.15,999.00
Apple iPhone 5s (Silver, 16GB) Rs 15999
Apple iPhone 7 (Black, 32GB) Rs.43,999.00
Apple iPhone 6S (Space Grey, 32GB) Rs.34,999.00
Apple iPhone SE (Rose Gold, 64GB) Rs.26,900.00
Apple iPhone 7 Plus (Jet Black, 128GB) Rs 65,999.
Lenovo Smartphones at attractive prices
Lenovo Zuk Z1 (Space Grey, Cyanogen OS) Rs.10,999.00
Lenovo Z2 Plus (Black, 64GB) Rs.14,999.00
Lenovo Phab 2 Plus Smartphone (Grey, JBL earphones) Rs.14,999.00
Motorola Smartphones Great Indian Sale price
Moto G Play, 4th Gen (White) Rs.7,999.00
Moto G Plus, 4th Gen (Black, 16 GB) Rs.11,499.00
Moto G, 4th Gen (Black, 2 GB, 16 GB) Rs.9,999.00
Moto G, 4th Gen (White, 2 GB, 16 GB) Rs.9,999.00
Moto G5 Rs. 10999 (Rs 1000 off)
Moto Z Play with Style Mod (Black, 32GB) Rs.24,999.00
Moto Z Rs. 34999 (Rs 5000 off)
Coolpad Note 5 (Royal Gold, 32GB) Rs 9,999
Coolpad Note 5 (Space Grey, 32GB)Rs 9,999
Coolpad Note 5 Lite (Space Grey, 3GB RAM + 16GB) Rs. 6999 (Rs 8199)
Coolpad Cool 1 4GB RAM Rs. 12999 (Rs 1000 off)
Coolpad Cool 1 (Gold, 3GB RAM + 32GB memory)Rs 10,999
Honor 6X (Grey, 32GB) Rs. 10999 (Rs. 2000 off) Rs. 12999 4GB RAM (Rs. 3000 off)
Also See:Deal: Honor 6X gets and Moto G5 gets discounts of Rs. 3000 off and Rs. 1000 on Amazon India