ASUS Zenfone AR which is based on Project Tango is revealed on Qualcomm Blog. ASUS Zenfone AR is set be launched in CES 2017 in Las Vegas. In the same blog post it is confirmed that the phone will be powered with Snapdragon 821 Soc.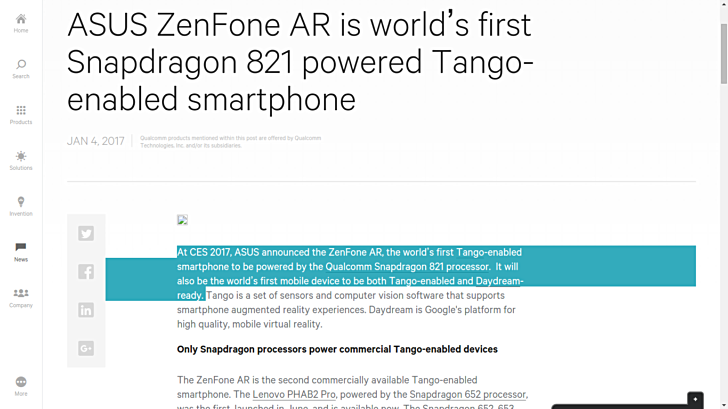 However, the Qualcomm blog post doesn't tell much about the sepcs of the phone other than Snapdragn 821 Soc , The smartphone that is also compatible with Google's VR platform Daydream and it is the company's first Tango Enabled phone. For More information we have to wait till it get launched. Earlier in 2016 Lenovo has launched the first Tango enabled Lenovo PHAB 2 Pro.
The Project Tango is a technology platform developed and authored by Google that uses computer vision to enable mobile devices, such as smartphones and tablets, to detect their position relative to the world around them without using GPS or other external signals. This allows application developers to create user experiences that include indoor navigation, 3D mapping, physical space measurement, environmental recognition, augmented reality, and windows into a virtual world.
Moreover, the popular leakster Evan Blass of @eveleaks also posted the latest renders of ASUS Zenfone AR which are posted below.