There are lot of Android Apps about everyone i.e for Photographers, Editors, Developers, Students and much more. But what about Writers? Who write so much content for you by sitting for hours? We are here with some best Android Apps for writers (writing) in 2017.

Writing from Notebooks to Smartphones
There are lot and lots of apps for writing awesome pieces of content. earlier were the times when a writers need a pen or pencil to pen their thoughts. Later development arrives with invention of computers, the work get shifted to Personal computer. Later, it get evolved to Laptops, emails and now Mobile phones, Tablets or some wearable devices are there for easing the job for writers.
What have changed in last few decades ?
There are many things that have changed for writers in the last few decades. There are few things that got  harder and few that got easier. Here are things that have been changed:
Instead of eraser, now we have undo option
Instead of ink and paper, we have virtual blank pages
Instead of searching magazines, newspapers now search happens on Internet
Instead of taking days to publish, now fraction of second is needed to publish content
Lot of research was needed at that time
Writing at Present:
At the present time, we have lot of resources from where we can extract data, mould it and use it in our own way. There are lot of new things that many companies have invented i.e. auto spell correction, auto image suggestions, graphical representation, easy understandability and much more things. But still
Way is different thought is same
Well, coming back to the best Android apps for writers or writing. We are going to enlist some bes app which supports markdown, word processing capabilities and eye relaxing interface (as writing takes lot of time).
Best Android Apps for Writers:
Writing Tools: 
Jotter Pad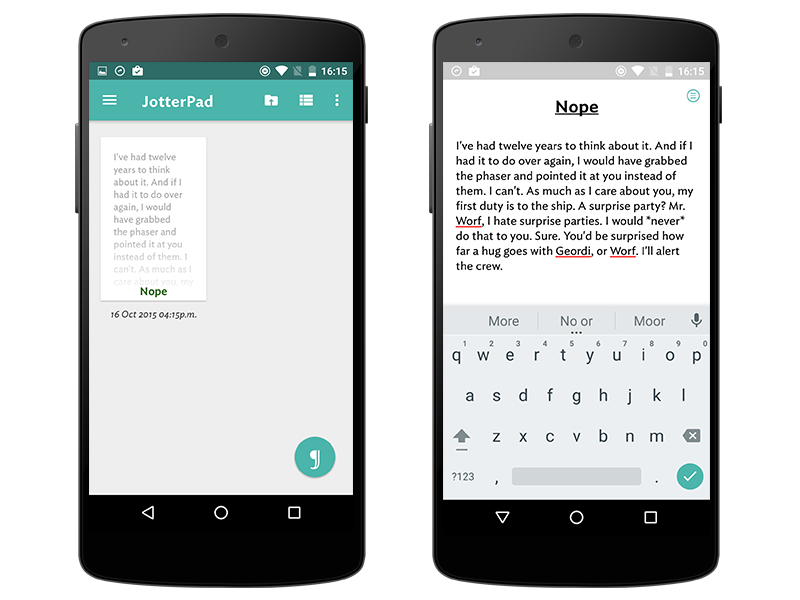 The creative writers are really going to like this minimalistic app. It packs all the fundamental features with a clean and elegant look or User Interface. It supports markdown and can export your writings to PDF and DOCX format. The App free to download from the Play Store with some paid features.
This is a minimalistic writing app for the creative writers. Some exceptional features distraction-free interface
built-in English dictionary
extended keyboard
keyboard shortcuts
open .txt, .md, .fountain
phrase finding
undo & redo
word and character count
Download: Play Store
Read More: Best Android Phones of 2017
iA Writer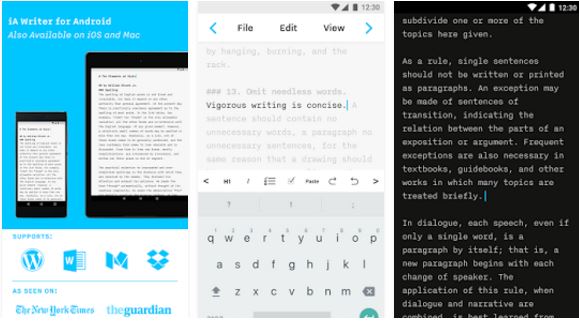 It is a feature rich App for Writing. It provides Black screen to keep strain away from your eyes. It has feature called syntax highlighting, which allows you to see adjectives, nouns, adverbs, verbs, or conjunctions in the document highlighted and much more. There are many other features also like auto correct, word and character count, etc.
Is iOS version is much more powerful than the Android one. You can download it form the link below.
Download: Play Store
Monospace Writer BETA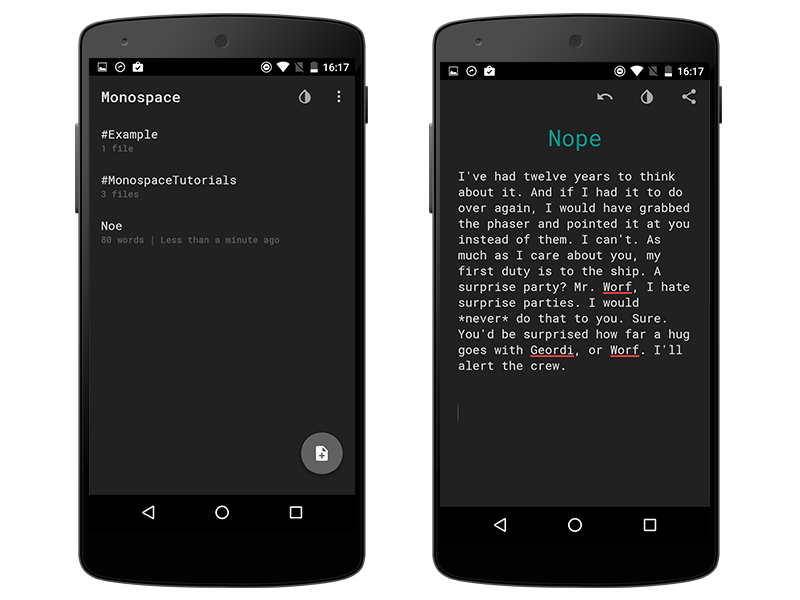 The app is packed with a dark theme to save your eyes. Further it hosts feature to organize your writing with hashtags. You can easily search with hashtags. You can download it from the Play Store below.
Download: Play Store
Read More: Best 2.5D curved glass display Android Smartphones in 2017
Microsoft Word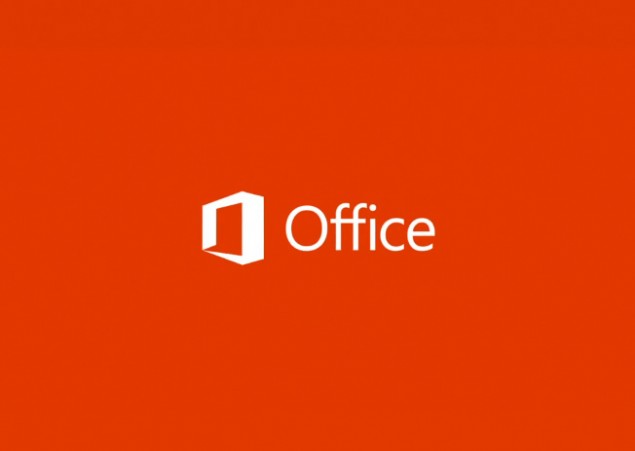 Who needs introduction for Microsoft Word. Well, it is the most used Word processing software. There are huge features in its Android App. The Microsoft Word is the most downloaded word processing software on Android also.
You can download it from the Play Store.
Evernote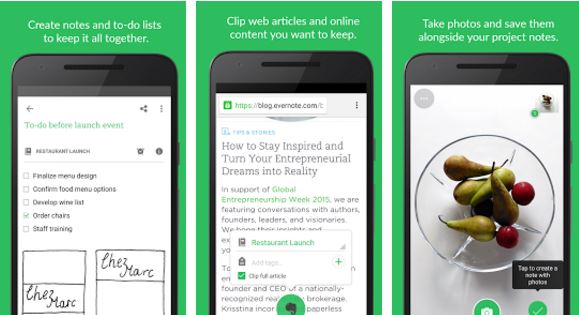 The app which is available on most of every major Operating Environment. Evernote makes it easy to remember things of your daily lives. You can write notes, checklists, organize web article, docs, and images.
The basic Evernote app is free on Android, Windows, Mac and iOS and offers cross-platform syncing and up to 60MB of new uploads per month.
Download: Play Store
Read More: Evernote App Update Brings New Scanning Algo and More
---
Dictionary
WordBook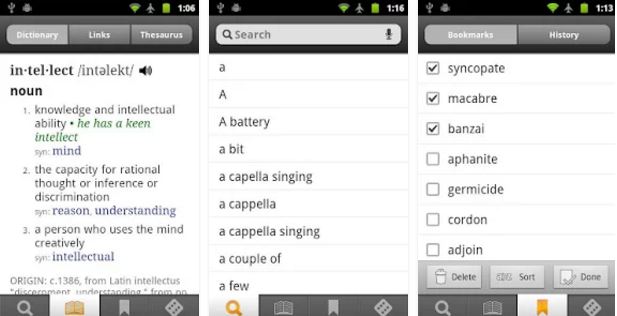 Wordbook is an award-winning English dictionary and thesaurus app with very well designed, fast and intuitive interface tailored. Also you can have a professionally recorded pronunciation for every single entry.
Whenever you want to know about particular word while writing, just hot the app and search. It will Provide you full information for the word.
Download: Play Store
Merriam-Webster Dictionary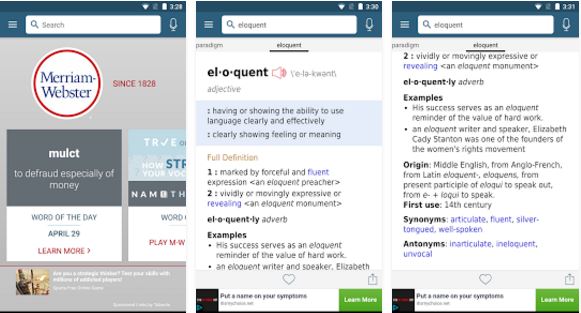 It's America's most referenced dictionary. It offers range of many options and features. It is available for free but few things are paid also. This version also includes illustrations, and foreign words and phrases that are commonly used in English lit. It hosts many other features that gives users a reason to use it.
Download: Play Store
Oxford Dictionary of English
Who can forget it in any way? The look and the feel of this app and the updations in words are first here to arrive. There are around 350,000 words, phrases and meanings. There Are around 75,000 audio pronunciations of both common and rare words
Download: Play Store
Dictionary.com
It is another source to find new words and their meanings.
---
Grammar & Readability
Grammarly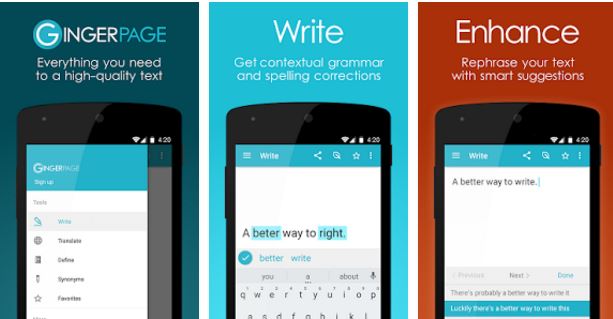 The biggest source to eliminate the grammatical errors. It can also identify and can spell check the words easily. It provides features like Advanced sentence rephrasing, translator – which can translate in more than 50 languages, Optimized for Tablet workflow and much more.
You guys can download it from Pay Store at free of cost.
Download: Play Store
Readability Score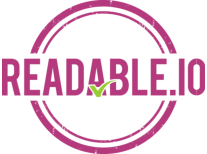 The app itself states what it does. It provides you scores on the basis of Flesch-Kincaid, Gunning Fog and the SMOG index principles. Further it gives text analytics like letter, word and syllable counts, etc.It also gives you the keyword density rate. It gives you estimate for reading and speaking time.
You need to use it over the web as they don't offer their service on Mobile yet.
---
Productivity Tools
Todoist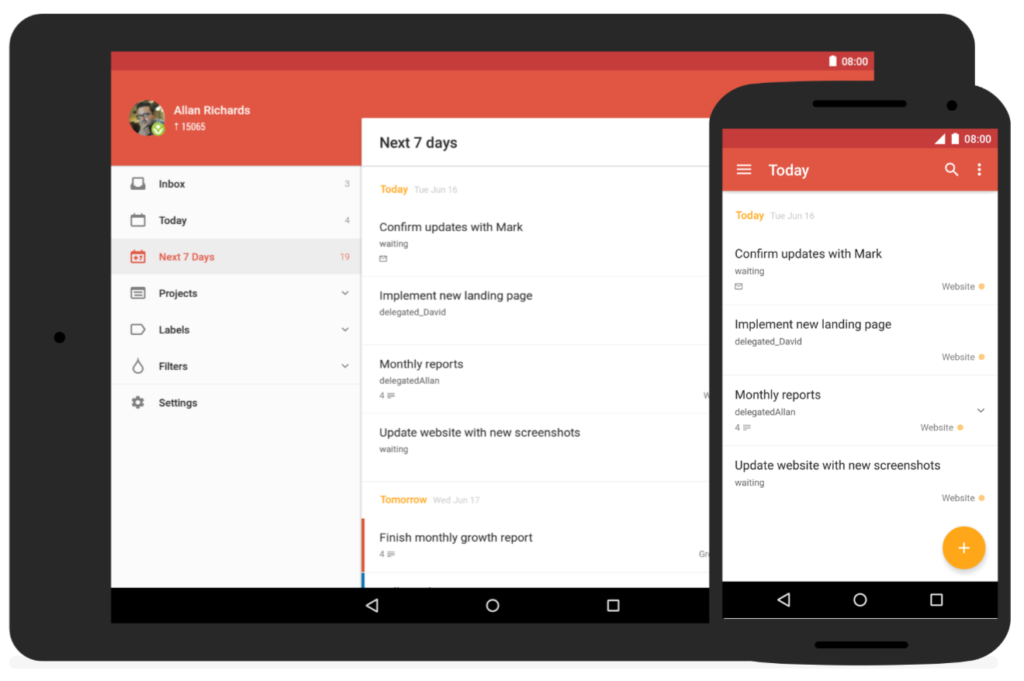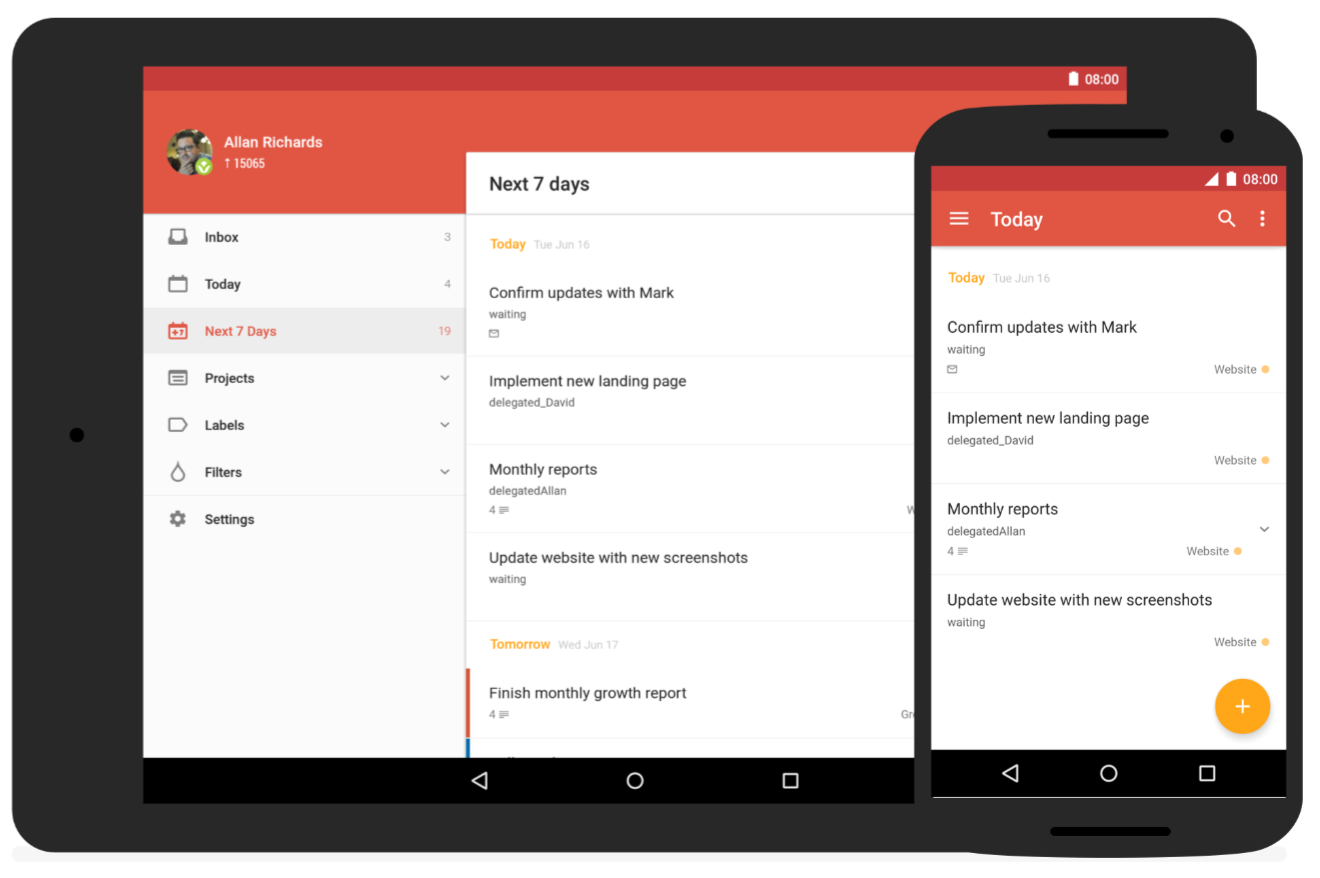 It is  beautifully simple to-do list and task manager built for the pace of modern life. This is fantastic for reminding you of your daily writing goals. There are lot of features which will force you to use this app.
Manage your tasks from anywhere – even offline
Plan ahead and never miss another deadline
Easy yet powerful organization
Seamless collaboration
Visualize your productivity
Use Todoist with all your favorite apps
Built for Android
Download: Play Store
Scanbot

It is the PDF document scanner. If any writer needs to convert their physical writings into the digital format then they can switch to the Scanbot app. It converts the hard copy documents into soft copy by converting them into PDF.
Download: Play Store
This ends our long list of apps that writers can use for writing. there are lot fo many other apps which we may have missed. You guys can head over to the comment section for them. We will update the article based on your recommendation.
Read More: Best News Reader Android Apps 2017
Well, these are the best Android apps for writing or writers. We are publishing some more useful content like this.