Samsung Galaxy S8 Cases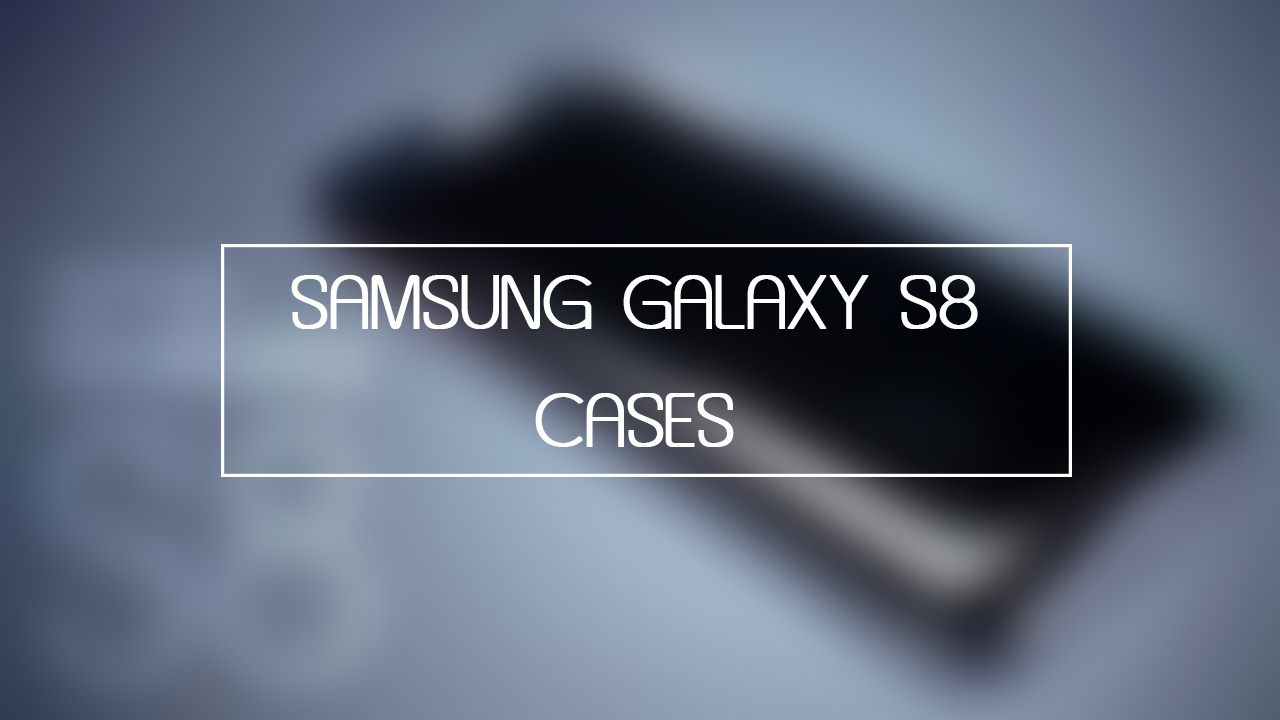 Samsung is about to launch the latest flagship in their arsenal, the Galaxy S8. And along with that, the S8 Plus. Meanwhile many of the case companies are up with their cases, and designs so that you can right away buy the phone along with a case. It is due to the fact, that the case companies already receive specs and the exact dimensions of a new phone, so that they can start making cases. and designs for the upcoming phones.
The phone starts shipping in the last week of April. So this makes it a perfect time, to sit back and choose a perfect case for your incoming Galaxy S8. While your S8 is on the way. And here are our top picks for the best galaxy s8 case, which you can buy right away.
Peyou Protective Case for Galaxy S8:
This case is a special shock absorbent case. And the manufacturer calls it drop proof. On the outer of the shell is a hard PC shell which is immune from any drops, scratches and other bumps which might come into your way. And along with that there is a shock absorbing silicone layer on the inside, which just makes it immune to any breaking.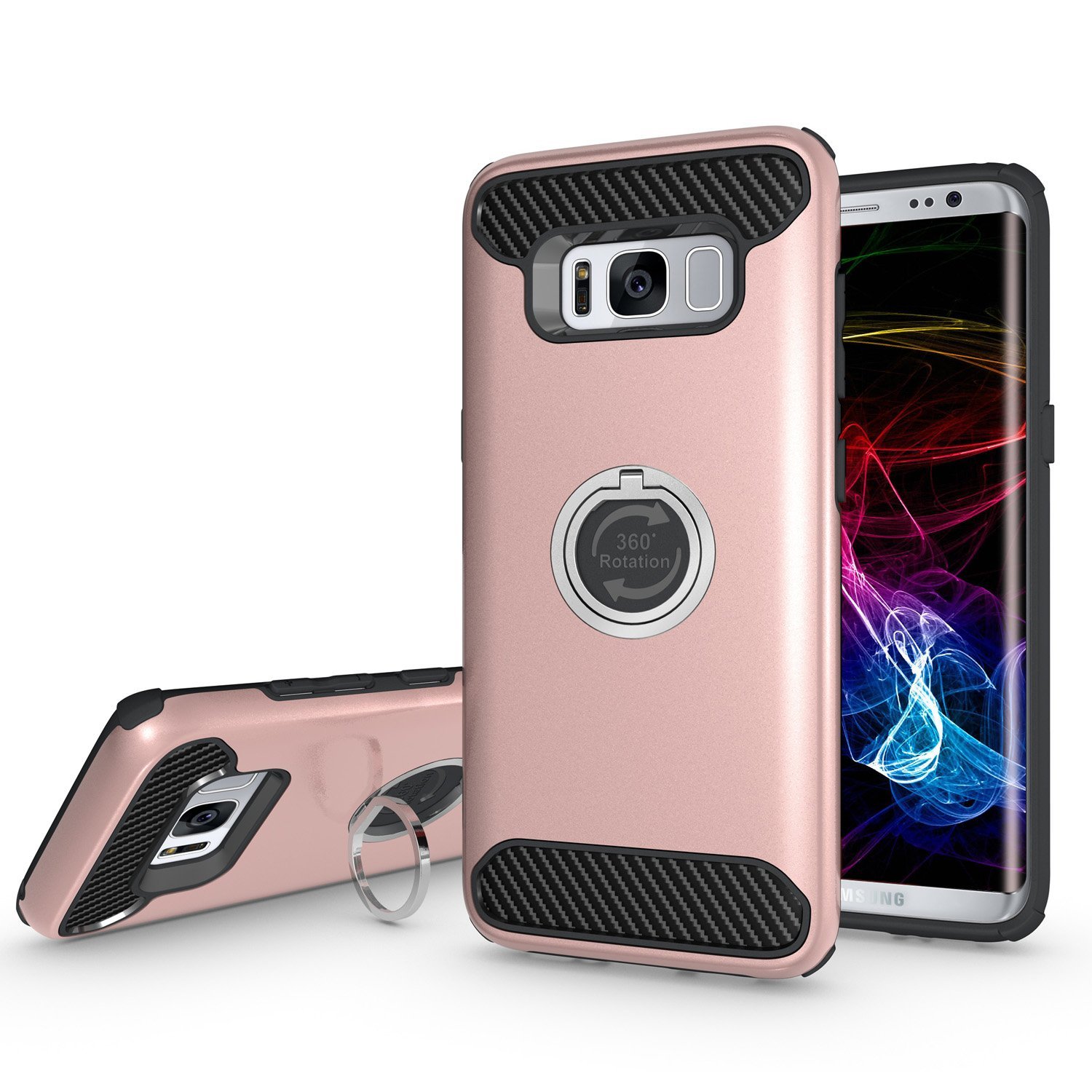 There is an aluminium Back Finger Ring, which is 360 degree foldable. And due to that it is quite easier to reach the extremes of the display, even if you have short fingers. Also it comes out, as you can see in the image, and will be allowing the phone to stand in landscape mode for media consumption. All in all it is a compact and really strong case for your galaxy s8. And the fact that the finger rings, just acts as a stand just makes it really impressive. The case comes in two colours, which are Rose Gold, and Mint. And it is priced at about $8.99.

Mini-Factory Hybrid Defender Case:
The case is exclusively for Galaxy S8. And it doesn't come for the S8 plus. The manufacturer promises drop proof protection on this one as well. It is built with Dual Impact Resistant Layers. The outer layer being the hard no slip PC shell. While on the inside it features a soft inner shock absorbing gel. Which just guarantees that no harm can be caused to the device, either by shock or by impact. As it safeguards both of these quite well.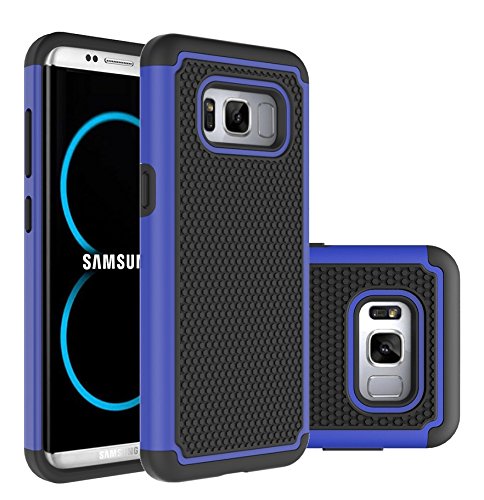 Also along the edges, the case has been raised  so that the screen is protected even while the phone falls down screen side. The camera cut out is also raised, which will be protecting the camera from the flat surfaces, which might induce any scratches on it. All the cut outs are precise, and there is proper spacing left out for you to install screen protector as well along with super protective case. There are plenty of colour options available for this case. As it comes in Beryl Green, Blue, Pink, and Black. It is priced at about $7.99.
Moko Heavy Duty Case:
Moko has been the key player in the bulky extra protective cases for quite a bit of time now. And they have their cases for many flagships out in the market. And here they are with the Galaxy S8 case. Proper cut outs are being left out so that it is comfortable connecting the charging cable, and accessing the hardware buttons etc.
But as you can see in the image, it completely covers the phone. And that only makes sense, as the company has some really strong claims about the protection which this case has to offer. This case is also a dual layer product. It has a strong Polycarbonate Hard Shell on the outside. And is featuring a soft silicone interior which will be protecting your Galaxy S8 from the inside from any shocks which might penetrate and damage the device.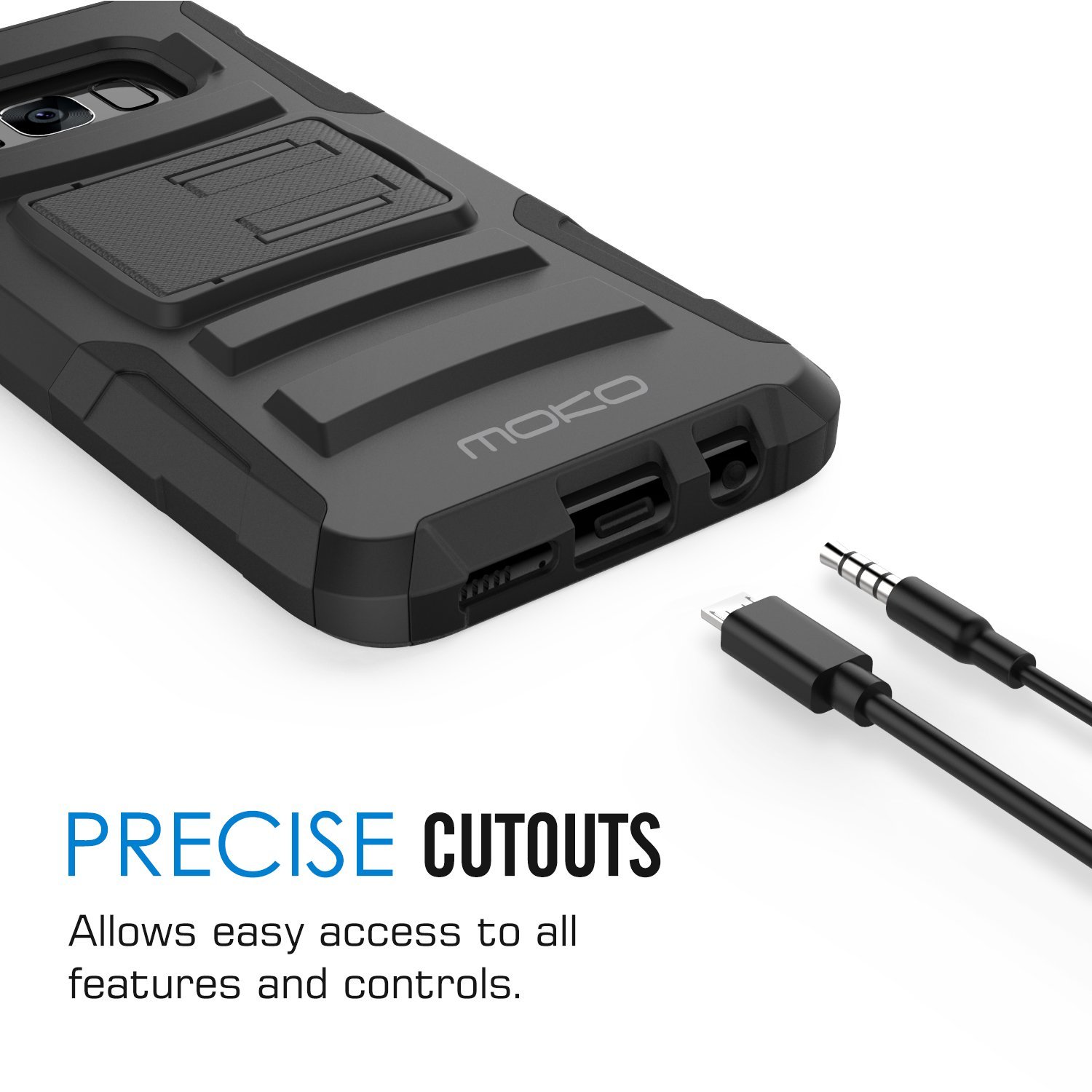 It features a rotatable holster at the back. Which acts as a phone stand, and will allow you to keep your phone standing on a desk for media consumption. You can see so in the attached images. The company offers a lifetime warranty on this case, which is a pretty serious warranty claim. And that very well explains the quality which is being offered with the case. It only comes in two colours, which are Red and Black. It is priced at about $8.99.
VRS Simpli Mod for Galaxy S8:
While featuring heavy duty cases in our list, we have completely overlooked some sleek contenders. And here is one sleek contender which makes the list. This case is designed primarily keeping in the mind the weight and thickness. But keep in mind, while going for sleekness, it does not compromise with protection and safeguarding your phone.
It is quite stylish, and combines two materials to make one light weight case. As you can see in the image, the spacing left out for accessing hardware buttons is proper. And also the case looks premium and feels good. The materials used, provide a really grip to the hand, and prevent it from slipping right out of your sweaty hands, even in the hottest of days.
This is definitely a case which you should try, if you are not a fan of heavy duty bulky cases. It comes in two colours, which are Brown and Black. On the price part, it is quite expensive. It makes sense, as the materials used are premium, and not plastics as the rest of the cases. It comes with a price tag of about $24.99.
So this is it, these were some of our picks for the best galaxy s8 cases you can find in the market at the point of time. Keep in mind, that since the phone is yet to be officially launched, there will be more cases and designs coming in. And will be covering them here, so stay tuned for further posts.