Nothing announced its sub-brand CMF a month ago when the company stated that it will reveal three affordable, astonishing, and novel products in the Indian market. The event, "Wonderful by Design," was scheduled for 26th September 2023. Today, CMF by Nothing launched three products – Buds Pro, Watch Pro, and Power 65W GaN.
CMF Power 65W GaN
With the CMF Power 65W GaN charger, less is always more. Your new go-to charger is this one since it is compact, portable, broadly compatible, and highly powerful. With its two USB-C connectors and two USB-A ports, you can connect everything from smartphones and computers to earphones and tablets.
It features the most recent GaN technology for the fastest charging experience, all in a surprisingly small and svelte shape that can easily fit into pockets and bags. CMF by Nothing Power 65W GaN charger is available in two color variants – Dark Grey and Orange. Furthermore, the product is priced at Rs 2,999 in India.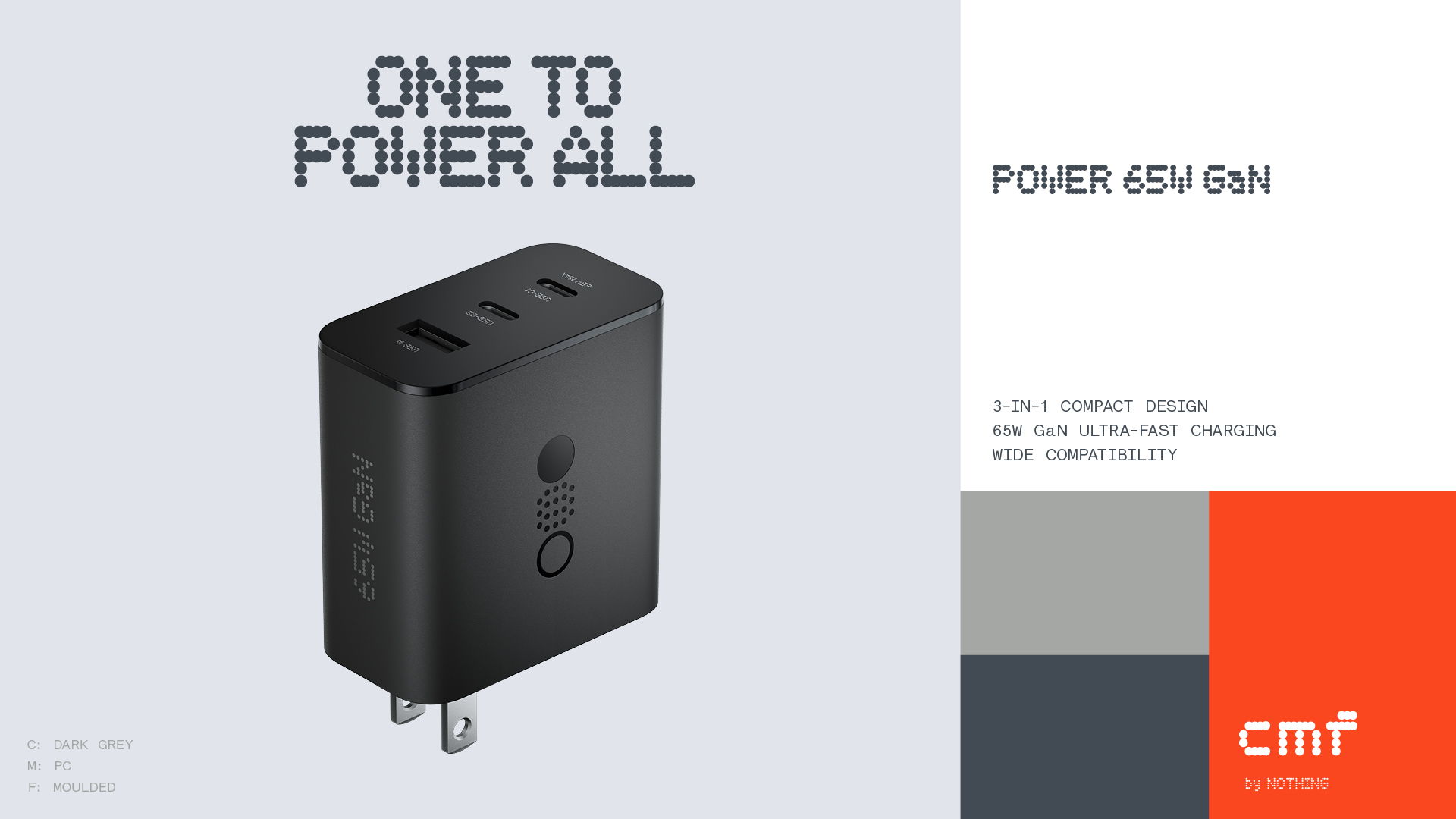 MAKE SRE TO READ: Samsung Good Lock 6.0 Announced with Fully Redesigned Modules; Changes Coming to DeX
CMF Buds Pro
The CMF Buds Pro has 10mm dynamic bass drivers. It includes 45dB Hybrid Active Noise Cancellation (ANC). The company also confirms that it has clear voice technology and a strong bass driver. It provides up to 11 hours of playback and a completely personalized experience on the Nothing X app.
To reduce background noise and maintain excellent speech quality during conversations, it employs an AI noise reduction system built and trained on over 20 million sound samples. Users may get up to 11 hours of music playing (with ANC off) from each earbud's 55 mAh battery on a single charge, or they can get up to 39 hours of listening time with the charging case. With Fast Charge, you can start listening after just 10 minutes of charging.
CMF Buds Pro filters a wide frequency range of sounds, up to 5000 Hz, using six high-definition microphones and advanced software algorithms. Furthermore, it incorporates an innovative Wind Noise Reduction algorithm, as well as two strategically positioned apertures at the top of each earbud enabling wind to pass through, assuring little wind-induced sound interference.
CMF by Nothing Buds Pro is available in three color variants – Dark Grey, Light Grey, and Orange.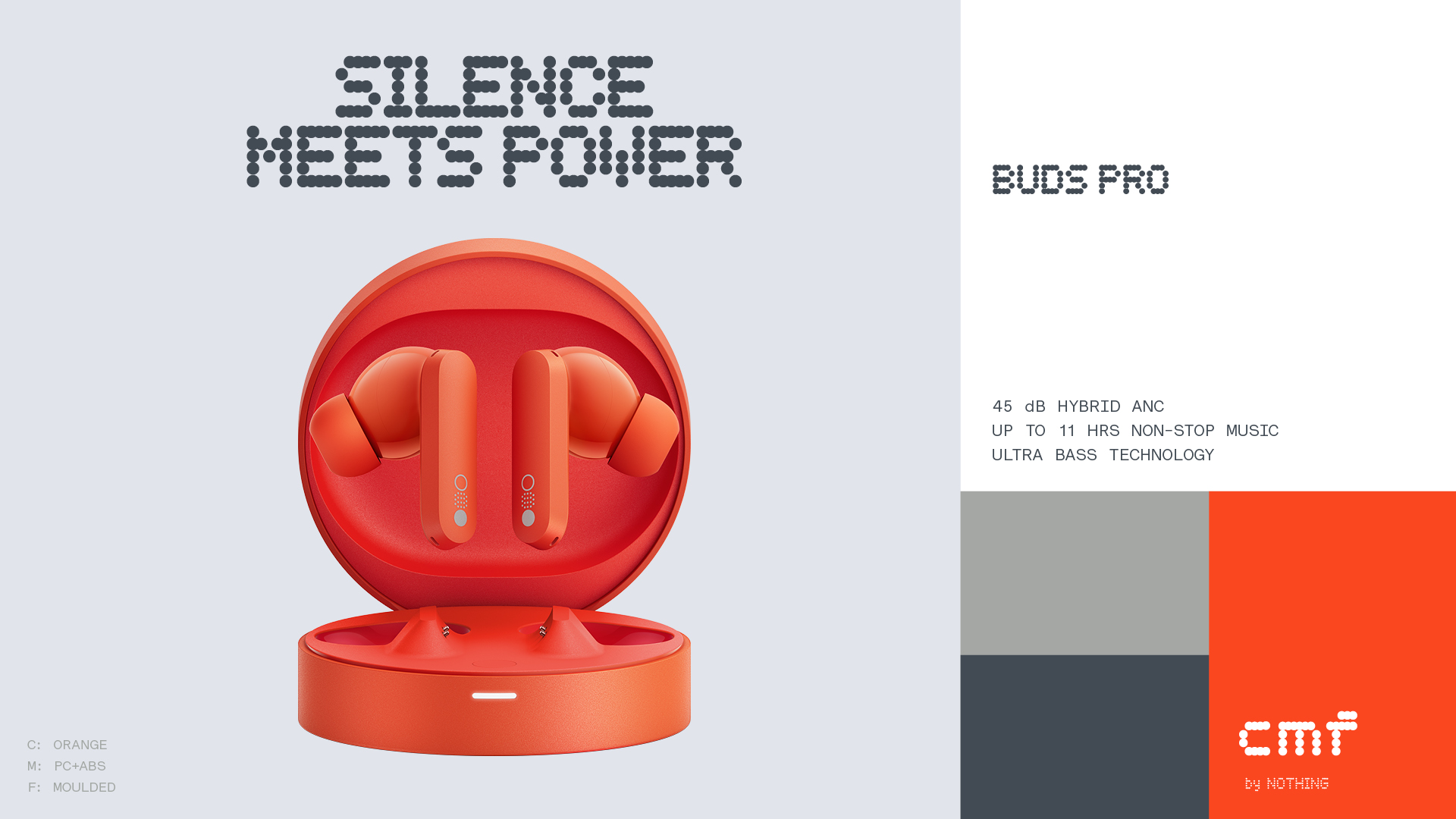 CMF Watch Pro
The CMF Watch Pro has a 1.96-inch AMOLED display with beautiful colors, fluid navigation, and a refresh rate of 58 frames per second. It provides complete health tracking, 110 sport modes, a built-in GPS for precise position data, and a battery life of up to 13 days.
Furthermore, its AI-powered call capacity provides clear and continuous communication even on the go. The display has a peak brightness of 600 nits, a resolution of 410×502, and a refresh rate of 58 frames per second. The watch promises to provide precise location, trace, and distance statistics for sports such as running, cycling, walking, and trekking by supporting numerous satellite positioning systems.
CMF Watch Pro is powered by a 340mAh battery, providing up to 13 days of battery life with typical usage. With an IP68 rating for water resistance, it can withstand rainy and wet conditions easily. The Watch Pro is available in two color variants – Metallic Grey and Dark Grey.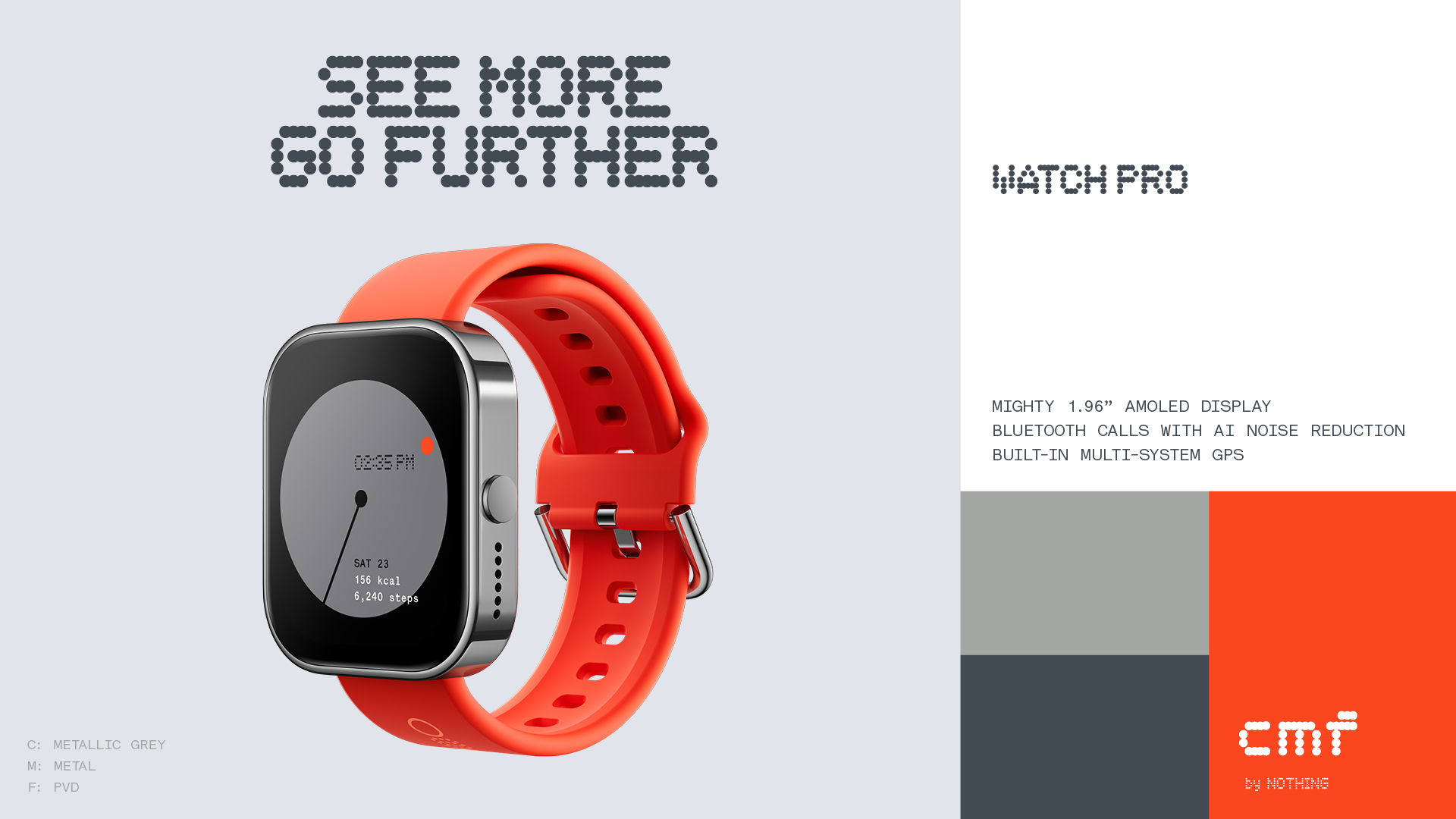 Special Offers:
Limited Drops, Early Access: Customers may purchase CMF Buds Pro and Watch Pro through early access anywhere else in the globe. Limited releases will be available beginning on September 30 at noon. Additionally, you will get a launch-day discount of up to Rs 500.
Customers can purchase the CMF Buds Pro, Watch Pro, and Power 65W GaN during the limited-time sale on Flipkart and Myntra on September 30 at 12 PM IST at a special launch price of Rs 2,999 for the CMF Buds Pro, Rs 3,999 for the Watch Pro (Dark Grey), Rs 4,499 for the Watch Pro (Metallic Grey), and Rs 2,699 for the Power 65W GaN (Orange).