Instagram is one of the most popular Apps for sharing photos and short videos. Although Instagram is used in various ways by different people. Some of them use it to share content with friends and some used to follow their favorite celebs. There are millions and millions of photos and videos are shared every day on Instagram. But in Official Instagram app there is not an option to download the content from there. So, there exist the third-party apps to give you full access to content on Instagram. GB Instagram is one of the best and most popular apps available. This article will help you in Downloading the latest GB Instagram apk, features of GB Instagram and How to install and use the GB Instagram App.
GB Instagram apk is a mod of Instagram app, which actually provides more features than the stock app. With this mod of Instagram, you can change the user interface of the app. There are some other mods also which is OG Instagram. Moreover, Whatsapp as the most popular instant messaging app in the world. So, like Instagram stock app of WhatsApp also has some limits. That's why there are various mods of Whatsapp which will give you more options and features. The MODs are GB Whatsapp, OG WhatsApp, FM WhatsApp, etc. You can go through them by clicking on them.
Features of GB Instagram App
Download Photos and videos: With GB Instagram you can download the Stories, Images, and videos. You can do so by tapping on the post menu and there will an option to download with just one tap.
Multiple Instagram accounts: You can add multiple accounts in one app.
Copy comment and Bio: In the stock app you are not able to copy the comments and Bio of other profiles. But with GB Instagram you can copy both the comments and bio.
GB Instagram allows you to zoom in to the profile pic of your friends. Which is not available in the stock Instagram app.
GB Insta allows the users to theme the application according to your choice. This feature is still in the beta stage but you can enjoy this feature on your phone and without any issues.
If you want to add the download button feature on Instagram then you need to download the Xposed framework on your phone.
Downloads
How to Download and Install GBInsta Apk
There are two types of GBInsta Apps, One named GBInsta and other one is named as GBInsta+. GBInsta apk comes with the package name com.GBInsta. It will install dual Instagram apps on your phone. If you have multiple Instagram accounts it will be easy for you to access your accounts via two insta apps.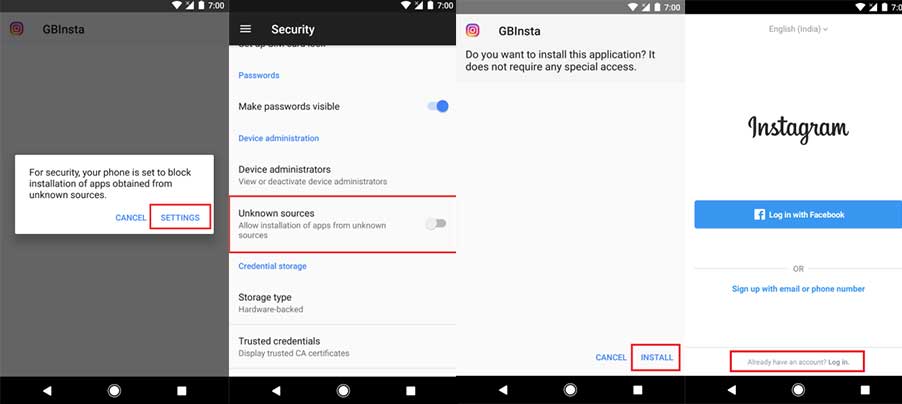 GBInsta+ comes with the package com. With this apk you have to uninstall the stock Instagram app form your phone. Now you can download the latest versions of both the apps from the Download section above. To install GB Instagram apk follow the instructions below.
Download the GBinsta or GBinsta+ apk, If you want to install GBInsta+ you have to uninstall the stock Instagram app from your phone.
Now to install GBInstagram app you allow the installation of apps from unknown sources.
To install the GBInsta app now you have to just tap on the apk.
After the installation completes you can log in with your credentials and enjoy more features with your Instagram app.
You may also like:
GBWhatsapp APK Download: All You Need to Know
FM Whatsapp Latest Version: Features and How to Install [APK]
How to Download Instagram Stories (2018)
For Photos and Videos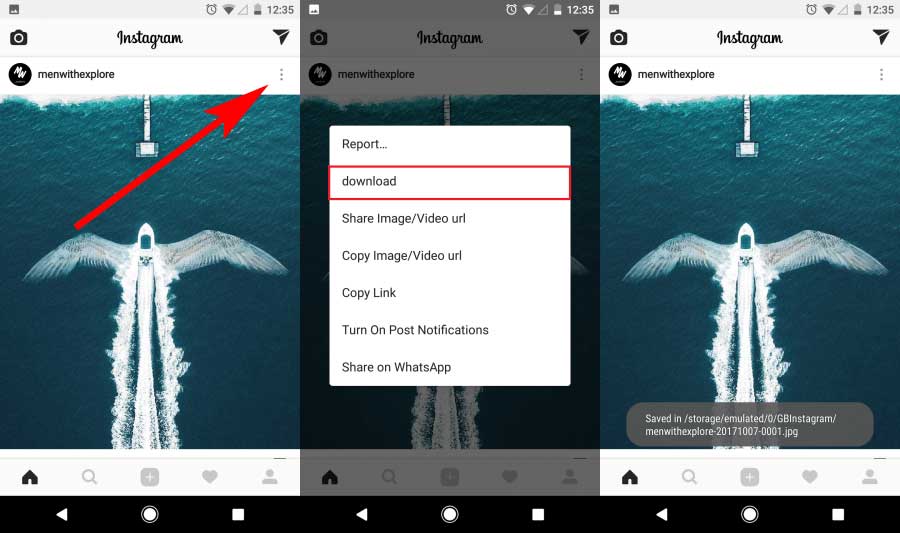 Open the Instagram app and find a photo or Video, which you want to downlaod.
On the photo or video post, you find a menu.
Tap on that menu and hit on Download button and then you can download the Photo or video on your phone.
The Photo or Video will be saved on your phone's storage.
For Stories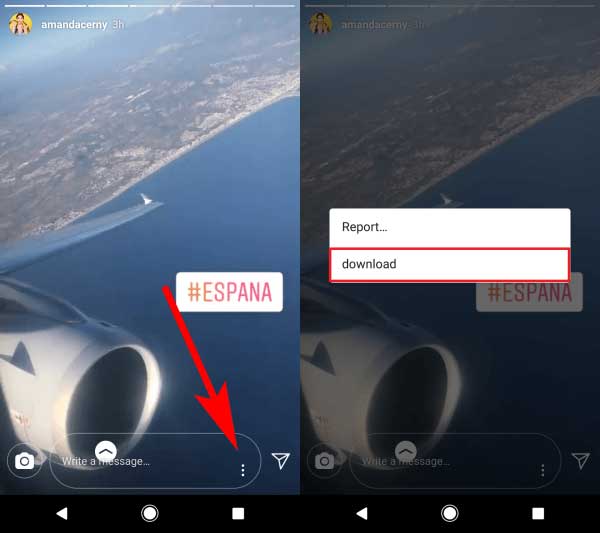 Open your GBInsta application.
Click on your friend's stories and menu key at the bottom.
Now can download the images and videos stories in just one click.
Although GB Instagram is very good error free app. But if you get any problem in downloading the GBInstagram apk you ask us via comments below.