Samsung Galaxy S7, launched last year as Samsung's flagship device, got many sales. It even braked old records of sales in comparison to its predecessors. If we talk about its successor, Galaxy S8, then it has outsold the Galaxy S7 by 15%. Overall, it is a good sign that Samsung's Galaxy S series market share is increasing every year.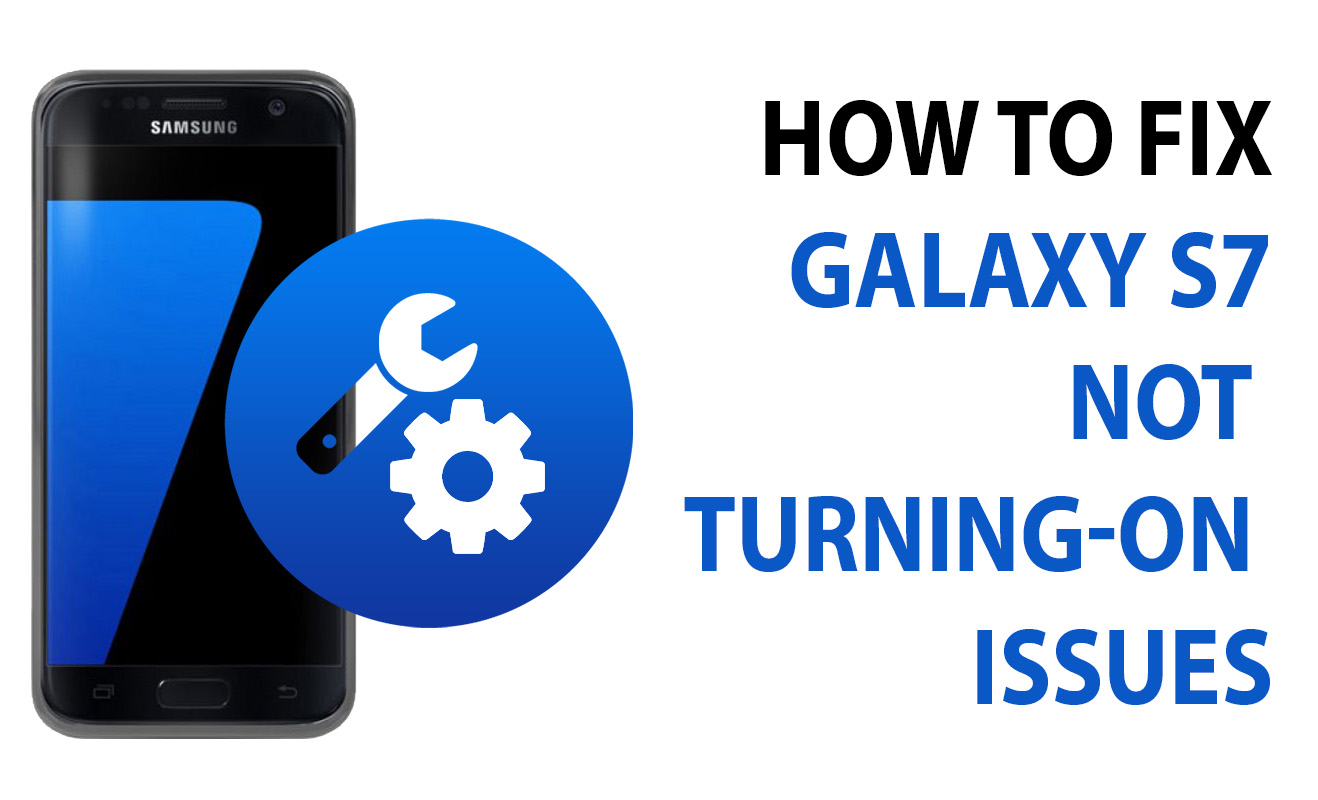 As a refresher, Samsung Galaxy S7 is packed with more improved camera with a 12 Megapixel sensor having LED flash and IR sensor on the back and 5MP on the front side for selfies, a 5.1-inch Super AMOLED Quad HD screen, 3,000mAh battery. Galaxy S7 is powered with Snapdragon 820 processor with 4GB RAM, 32GB built-in storage with microSD support up to 200GB.
The Samsung Galaxy S7 runs Android 6.0 and is powered by a 3000mAh non removable battery. It measures 142.40 x 69.60 x 7.90 (height x width x thickness) and weighs 152.00 grams.
The Samsung Galaxy S7 is a dual SIM (GSM and GSM) smartphone Connectivity options include Wi-Fi, GPS, Bluetooth, NFC, 3G, 4G (with support for Band 40 used by some LTE networks in India). Sensors on the phone include Proximity sensor, Ambient light sensor, Accelerometer, and Gyroscope.
How to fix Galaxy S7 not turning on issue ?
There are different cures for the issue of Galaxy S7 not turning on. We will start with the basic problems and cures for this issue.
It can persist due to:
Battery is not charged up or has drained
New Update is causing some glitch
Hardware failure
Software backlash
Incompatible App Updates
Power button is damaged
Device crashed and not back up
The Galaxy S7 won't boot up and it can be cured by following ways:
Forced Reboot Option
In order to fix the not turning issue, you can now simply try to force reboot the device. This is the first option we usually try to troubleshoot the problem.
In order to Force reboot it, press hold the Volume Down Button for 10 seconds. If it reboots then it will work perfectly. Other wise we have to troubleshoot it by other ways.
Charge Up your battery for sometime
The next step we take to solve the issue is to charge up the device for atleast 10-15 minutes. It's not a matter that you have charged it with 5 minutes ago or 5 hours ago. It is a major step in troubleshooting guide of Galaxy S7.
You need to charge your device for sometime and then try to turn it on. You can also repeat the Forced reboot option.
Try to boot Galaxy S7 in Recovery or Safe Mode
In order to check the phone's hardware, you can check it by booting the devicec to safe Mode.
In order to boot the device into safe mode you have to follow a procedure.
Steps to boot in safe mode:
Turn Off the device
Press and hold the Power key past the Samsung Galaxy S7 edge screen.
When you see 'Samsung Galaxy S7' screen, release the Power key and immediately hold the Volume Down key.
Continue holding the Volume Down button until the device finishes rebooting.
You may release it when you can see 'Safe mode' in the bottom left corner of the screen.
Steps to Boot in Recovery Mode:
Switch your Samsung Galaxy S7 or S7 edge completely.
Boot into Galaxy S7 recovery mode by pressing and holding Volume Down, Home and Power keys at the same time.
Release all three buttons when Samsung Galaxy S7 shows on the screen and you see a warning sign.
Press Volume Up to continue to the main screen of Recovery mode. Or, press Volume Down if you aren't sure and want to go back to the normal mode.
You can also use Quick Boot app to directly boot to recovery if you can't find it.
Wipe Cache partition to fix S7 won't turn on
Wiping the cache partition will not only fix your won;t turn on issue, it will also speed up your device speed by clearing the unneeded data. In order to wipe the cache partition, you need to follow this procedure:
Boot into recovery mode as said above
You will find Wipe Cache Partition option
Select that option
Execute it using the Power button of your device.
Factory Reset the Galaxy S7
The last step that you can perform is to factory reset your device. If there's any issue with software,this will correct it. In order to do so you can follow the steps below.
How to Factory reset Galaxy S7 ?
In order to factory rest you should be in the recovery mode.
Boot to recovery mode
Select Wipe Data/Factory Reset option by volume button
Execute the Reset option by using the Power button of Galaxy S7
Final: Call the Service Center for Hardware Failure or replace your phone
The final option is to replace your phone or get it checked from the Service Center. It might be a hardware failure or any other glitch with the hardware. This check is performed by a trained technician.
You need to keep in mind that the electronics can get damaged at any instance. So have a warranty, if your provider provides it.
This is our how to fix Samsung Galaxy S7 won't turning on problem guide. Stay connected for more guides!