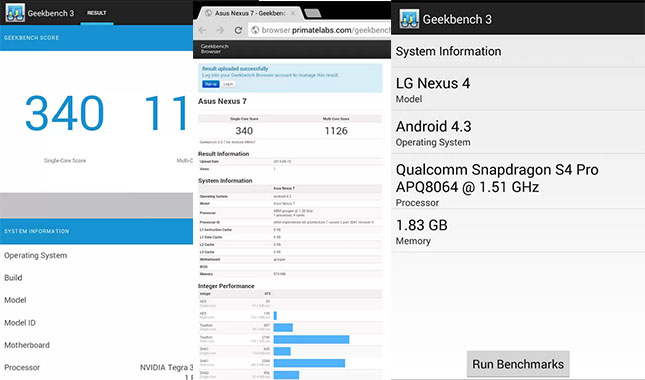 Are you struck off with an app for calculating benchmarks for a device which is not accurate enough at the other side when you practically handle the device on to its extreme? If yes then just be thankful enough to Primate Labs.Inc which has recently released an application for calculating Benchmarks for all devices.
The Application also owns a very nice and responsive interface.
The Application has a lot to offer when it comes to its features which can be quoted on the official website.While the application can be downloaded on the android platform from here.
Geekbench 3 includes 15 new benchmark tests that are designed to model real-world processor intensive tasks. The new tests cover a number of different application domains, including encryption, image processing, signal processing, and physics simulation.
Geekbench 3 also includes 12 completely rewritten benchmark tests from Geekbench 2. These tests are now more representative of real-world applications and usage scenarios.
Making it very clear to the GeekBench 2 users that the agenda to calculate benchmark in Geekbech3 is really very different and both cannot be compared. Thats the reason the Score has been said to "measure real world performance".
The Application is very useful when we come to devices with mulch-core p[processors as there has been no application which does this. But the GeekBench 3 will get to the deepest and find benchmarks for all core processors inside a device rather than just focusing on the father of all present in one device.