Google is frequently pushing updates to Gmail users, to name a few recent features includes the ability to edit Office attachments without downloading, Malicious Document Detection, Collapsible Side Panel, and much more. The latest news is that Gmail is helping Android users with new buttons that will ease the process of copy and paste email addresses.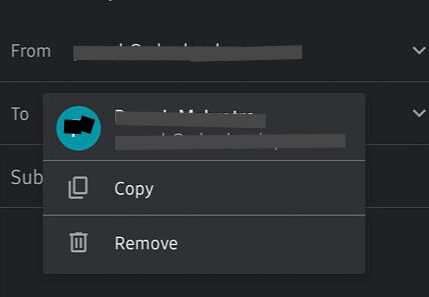 The new buttons replace the old gesture of long-pressing the email address to paste the ID. The button is available while composing a new email via long-pressing the email addresses in the "To, CC, or BCC" fields. The window includes the email address and the name associated with it with two buttons of "Copy and Remove."
As the name suggests, the 'Copy' button copies the email address and enables to paste it on another field. While the 'Remove' button deletes the selected email address from the clipboard. In case you accidentally remove the address, there's no need to worry as the button does not delete the email address from other fields. In simpler words, if you have entered an email address in both 'To' and 'BCC' fields, and you remove any of the one from the fields, the other won't get deleted.
The feature is seeding out with a server-side update and is not yet available for all Gmail users. These buttons are available for some Galaxy Note 20 owners with Gmail for the Android version of 2021.02.05.357775197.