Google messages is one of the best text messaging app for Android users. Google messages started to test a new feature in which the OTP messages are deleted automatically after 24 hr hours. This feature was first spotted in September 2020 and is expected to be available for users very soon.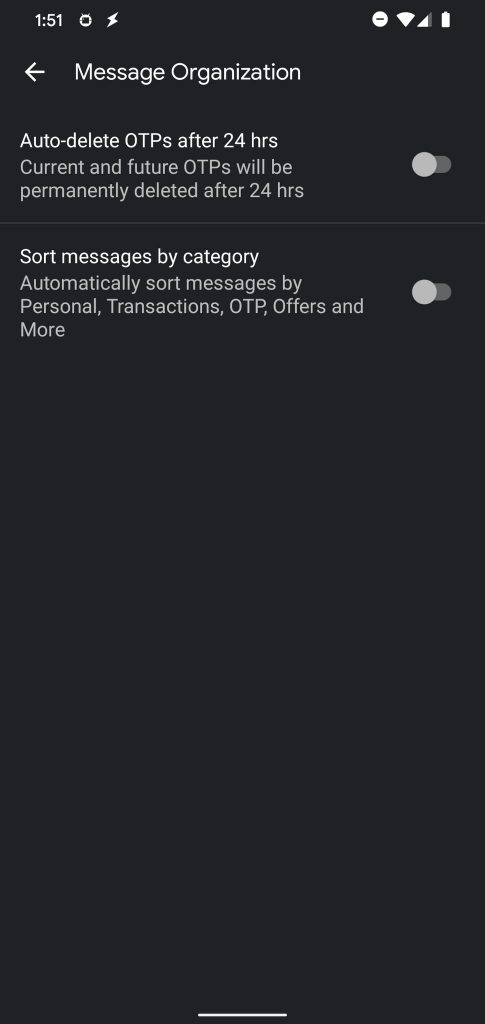 The update was revealed back in September 2020 by Google messages v6.7.067. As per the reports, the update has already started to roll out for some users in the beta version 7.5.048 of the app. The new feature enhances the inbox by freeing up unecessary OTPs.
Once the user enables the feature on their smartphone, all the OTP messages delete automatically after 24 hours. This helps in the difficulty of manually finding the messages and deleting them from the inbox. The beta update also adds a new feature in sorting the messages into categories. The categories include personal, offers, OTPs and transactions. Personal categories have already started rolling out to some Google Message beta users in October 2020. Yet, it is expected to become available for everyone via this update.
As OTPs are needed temporarily, there is no loss in deleting the messages after 24 hours. In fact, it is a waste to keep them stored in the inbox. Google Messages beta version is not yet available for everyone. However, the stable version of this update is expected to launch in the coming weeks.
Enabling the update is purely the user's choice, the users are not forced to use the feature. This feature is already seen in some apps including Microsoft SMS Organizer which was introduced in 2017.