Google recently posted the annual Android Security review for the year 2017. And based on what Google has listed is really worth boasting about. According to the internet giant, Google Play Protect helped in removing 39 million PHAs (Potentially Harmful Applications) last year itself.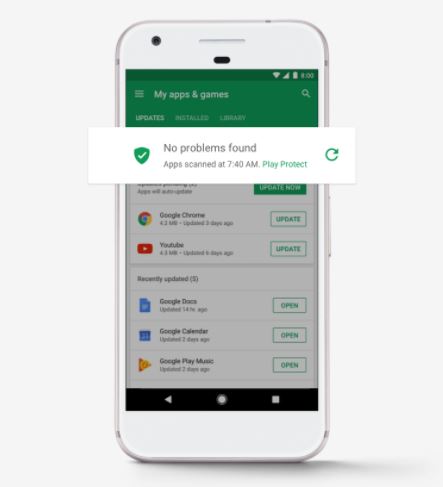 It was only in May of 2017 when Google first announced the Play Protect for nearly two billion Android smartphones which are used by the people around the world. Google says that most of the features of the Play Protect were already present in the Android securing devices for years. But, to make users know of this backend process, Google introduced the Play Protect.
The Google Play Protect regularly reviews more than 50 billion apps and other sources of PHAs for any threats. Users can even manually triggered it from My Apps section in the Play Store. Google notes that 60.3% of Potentially Harmful Apps were detected by machine learning and the number is expected to increase in near future.
As mentioned in the title as well as at the beginning of this article, the Play Protect removed 39 million PHAs in 2017. Google said that they came to know that nearly 35% of PHAs were installed offline and thus they enabled offline scanning in Play Protect. This helped in preventing 10 million more PHA installs.
Along with Google Play Protect, Google also improved the monthly security patches and added new security features in Android Oreo to secure people's devices.What are your thoughts on Google Play Protect? Don't forget to comment below.