The "Heads up" feature by Google was spotted last year in November when the Digital Wellbeing app was pulled back. As the name suggests, the feature alert users to keep their heads up while walking to avoid any mishap. Now, with the update of Digital Wellbeing app, the Heads up feature is rolling along to Google Pixel users.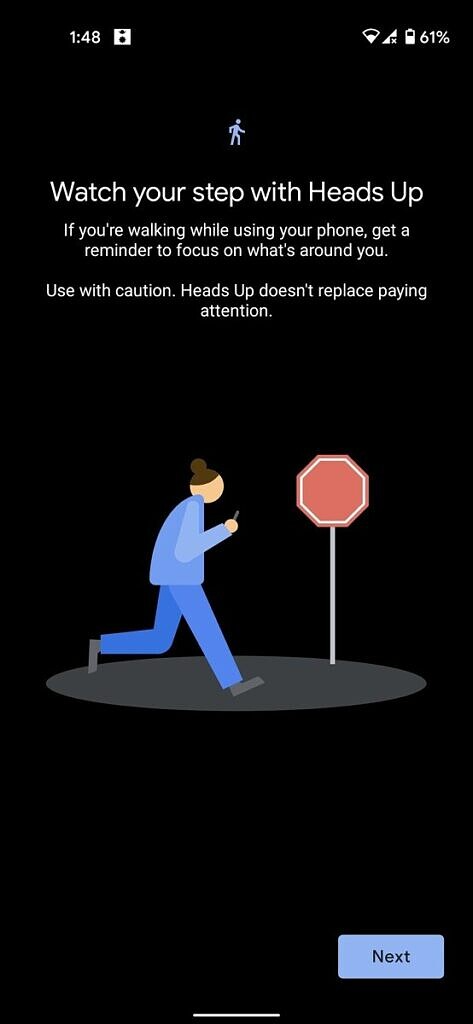 The feature has not changed since first glance. The screen displays a similar description as before which states, "Watch your step with Heads Up…If you're walking while using your phone, get a reminder to focus on what's around you. Use with caution. Heads Up doesn't replace paying attention."  
This attribute starts working when you tap on the "Next" button at the bottom right corner of the screen. Once enabled, the user will receive a push reminder every time he's using the phone while walking.
To find this new feature, head to the Digital Wellbeing app -> Settings -> Reduce Interruptions. In there, you will also see a couple of additional settings on the screen. As usual, there's a feedback option and a new toggle via which you can enable or disable the reminders, permission controls for Physical Activity, and Location.
For now, the feature is only rolling out to Google's own devices with the latest update of the Digital Wellbeing app. However, it is expected to release on more Android devices shortly. If you own a Pixel device, you can flash the new build of the app via Google Play Store.