After a couple of years, Huawei finally unveiled the second major version of its customized skin, HarmonyOS. However, only a few watches and tablets come pre-installed with it. The company has now decided to push the new HarmonyOS skin to over 100 devices, which includes some old flagships as well.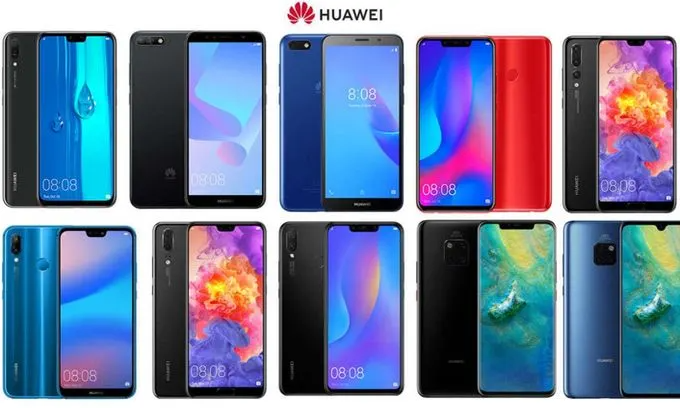 Talking about the long list of devices, recent devices like the Huawei P40 series, Mate 40 series, Mate 30 series, and some MatePad Pro tablets will receive the update via OTA this month. To be more precise, this list includes:
Mate40 Pro
Mate40 Pro+
Mate40 RS
Mate40
Mate40E
Mate X2
P40
P40 4G
P40 Pro
P40 Pro+
Mate 30 Pro
Mate 30 Pro 5G
Mate 30E Pro 5G
Mate 30 RS
Mate 30
Mate 30 5G
MatePad Pro
MatePad Pro 5G
Mate Xs
The second batch of devices will be updated in Q3 of 2021 i.e; between July to September. The batch includes foldable Huawei devices like Mate XS, Mate 20, Nova, and MatePad handsets. Here's the list:
Mate 20
Mate 20 Pro
Mate 20 RS
nova 7 SE
nova 7 SE 5G Youth
nova 8 5G
nova 8 Pro 5G
nova 8 Pro 4G
nova 8 SE
nova 7 5G
nova 7 Pro 5G
nova 6
nova 6 5G
nova 6 SE
MatePad 10.8
MatePad 10.4
MatePad 5G
Moving to Q4 of 2021, Huawei will update some of its older flagships including the P30 series, Mate 20 X, M6 tablets, and the original foldable Mate X. Along with this, several V and S series devices will be updated as well.
Heading to the next year, Huawei will send the HarmonyOS to its older flagships like the P10 series, Mate 10 series, P20, and Mate 20 devices. The oldest device to grab the skin will be 2016 launched Mate 9 duo. Zoom in to take a look at the entire plan.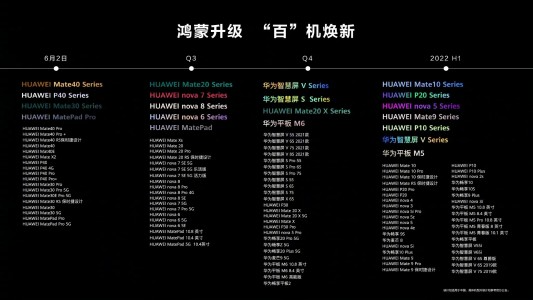 However, keep in note that the schedule is only limited to China. The Huawei users in other countries will have to wait, but the company did not mention the abroad devices.