Google is here with another version of the Android Oreo i..e 8.1 as a developer preview. Earlier at a conference, Google gave the hint that it (Android 8.1) is coming our way. Today, a newest or latest version of Android has landed and i.e Android 8.1 oreo. Currently, it is available as developer preview for the all Pixel and some Nexus devices.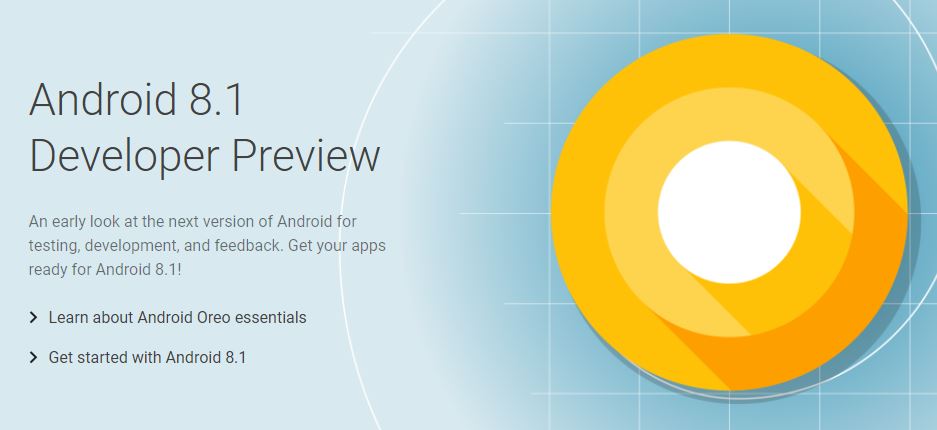 List wise if we say, then Nexus 6P, Nexus 5X, Pixel, Pixel XL, Pixel 2, Pixel 2 XL, and Pixel C are the devices that are compatible with this new Android version.
Features of Android 8.1 Oreo
As the developer preview of the Android 8.1 Oreo is rolling out, so are the new features. Particularly, there are no visual changes for the normal users and any other change that users can directly see. For developers, there are lot of improvements present in the latest Android build.
Talking about few of them
Neural networks API: Google has extended the support for Neural networks by introducing an API for it. It supports device model creation, compilation, and execution.
Notifications: Notification behaviour has been updated.
Safe Browsing: Safe Browsing actions have been implemented in the apps and browsers.
There are many other several changes and additions in the latest Android 8.1 Oreo build. Google has introduced Shared memory API, WallpaperColors API, EditText update, Autofill framework,etc.
Users who want to flash the OTA update of the developer builds can hit the source below.
Source: Android builds