The Moto M is now on the Android Nougat list of Motorola phones in India. Arguably, it is a very late entrant to the party. As it more expensive than the Moto G4 Plus and better specced as well. The Moto G4 Plus got Nougat a long time ago.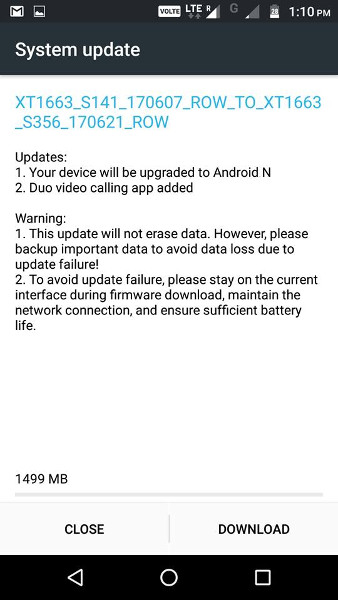 Users who have seen the update report a 1.5 GB file. You can expect all Android Nougat goodies to come bundled with it. Motorola likes to keep it as stock as possible so expect the same here. There won't be any bloat and you should see some battery life gains.
The Moto M was last year in two variants in India. The 3GB + 32GB model costing Rs. 15,999 and the 4GB + 64GB model costing Rs. 17,999.
Before you update, make sure you back up your device as this is an OS update, not a security patch. Charge your device to full. Latch on to a Wi-Fi and get ready for some Nougat sweetness.