SwiftKey, the smart keyboard and the most used third party keyboard on Play Store, has received a new update. The prediction Tech Company has given a new update to its app with some major changes.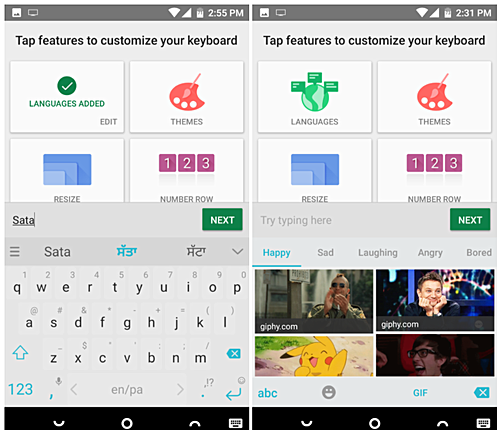 The update brought by SwiftKey has a number of changes like the support for GIFs, expanded transliteration and some bug fixes. The company has said that they now support the GIFs categories. You can also access this feature from emoji's panel.
Swiftkey new update has added transliteration support for different languages. Here's a list of those – Odia, Kannada, Marathi, Malayalam, Bangla, Punjabi, Tamil and Telugu.
The update not only includes support for GIFs and expanded transliteration, but also the shortcuts for Bluetooth and hard keyboard.
The tech company knew that people love sharing the GIFs, so it added this new feature in the update. While you type a word in English you can see it in many other different languages.
You can also search GIFs according to your mood like happy, sad, angry, laughing, etc. You can customize your keyboards by updating the SwiftKey app and changing the settings according to your needs.
With the addition of the latest languages, it has made easier for people to use the keyboard supporting their language and use it.