OnePlus is all set to unveil the forthcoming OnePlus 11 series in China on January 4. It will launch on February 7 in India. The design of the smartphone was confirmed through the poster. It was known that it would sport the Qualcomm Snapdragon 8 Gen 2 chipset. The smartphone specifications, too, were known after the TENAA certifications. OnePlus now confirms that it will be the first smartphone in the world to sport a bionic vibration motor and a custom graphics engine.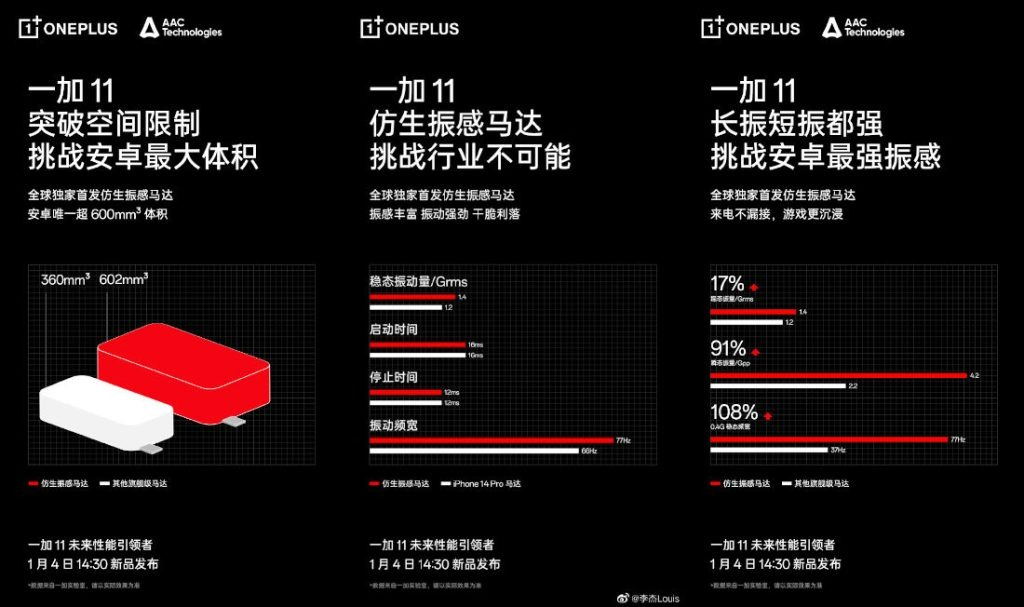 Bionic Vibration Motor
OnePlus says that AAC technology develops the bionic vibration motor. The brand claims it will be the strongest motor on an Android smartphone. It will also be the largest one with a volume exceeding 600mm³. OnePlus will offer 1.4 steady state vibration/Grms, which is 17% better than iPhone 14 Pro, which is at 1.2. Compared to the 66Hz vibration bandwidth in iPhone, it has 77Hz, which is better. OnePlus claims that it is 37Hz in other Android flagships. It has the same start time and stops time as iPhone, i.e., 16ms and 12ms.
It will be 91% better than other flagships, which have offstate vibration/Gop of 2.2 compared OnePlus's 4.2. OnePlus 11 will be the first to feature full-phase magnetic circuit technology. Adding more magnetic sources and greater driving force helps the vibration become stronger and crisper. The brand adds that the vibration quality will improve in popular third-party applications.
Custom Graphics Engine
OnePlus also claims that the OnePlus 11 will be the first phone in the world to feature Super Graphics Engine. The custom graphics engine will help achieve a high frame rate and native image quality. OnePlus will offer up to 120fps with the optimization despite the games' lower frame rate support. It will open up a new era in mobile gaming, says OnePlus.
A professional rendering chip, software algorithms, game development engines, and other software and hardware processing do the achievement. The low power consumption will help to improve the frame rate and image quality. It will surpass the original experience of the game. OnePlus adds that the maximum temperature is 43° C and the average frame rate is 119.8fps of OnePlus 11 after playing the League of Legends Mobile Game for 1 hour.