As compared to other smartphone manufacture companies, OnePlus is way ahead in creating anticipation and excitement about its products. Yesterday only, Carl Pei, CEO of OnePlus tweeted about headphone jack. Now today OnePlus released a new teaser about Oneplus 5 colors.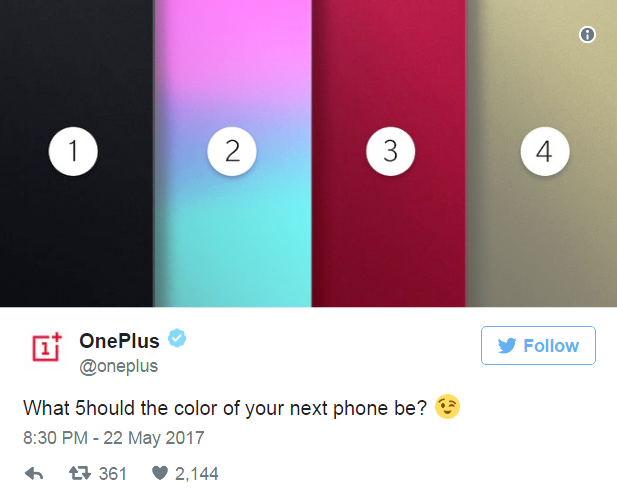 In the tweet, OnePlus used digit '5' instead of letter 'S' which clearly states that this tweet is all about company's upcoming very much hyped flagship killer smartphone( OnePlus 5). The colors which are part of this tweet are black, blue-green-purple mixture (OnePlus is calling it as Unicorn color), Red and Gold. You can take this tweet in two ways – either the Chinese company wants to pick one or two colors from those four and is asking for help in that process, or it's revealing all of the choices you'll get when the OnePlus 5 hits the market.
At this point it's impossible to tell which of those explanations is true. But while colors 1, 3, and 4 (Black, Red, and Gold) are pretty obvious and wouldn't be surprising to see in a flagship smartphone in 2017.
According to previous rumors, OnePlus 5 will have 5.5 inch 2K display. It is powered with Qualcomm Snapdragon 835 chipset. The phone is paired with 6 GB RAM 64 GB internal memory or 8 GB RAM 128 GB internal memory options. The OnePlus 5 will possibly run on Android 7.1.1 Nougat out-of-the-box.