The cases of smartphone explosions have become usual in recent times. A Redmi Note 9 Pro/ Pro Max caught fire earlier this year. And now, a brand new OnePlus Nord 2 smartphone ended blowing up that caused trauma to the user. This is the first time ever that OnePlus Nord 2 caught fire.
A user from Bengaluru, Ankur Sharma took the incident to Twitter and later deleted the post. He said that his wife went cycling with her brand new (5 days old) OnePlus Nord 2 and the handset "blasted" and smoke started coming out of it. Following the explosion, Ankur Sharma's wife met with an accident that caused her trauma.
He posted pictures of the exploded smartphone which shows the unit was completely damaged. The rear panel, frame, and display are completely burned and the Lithium-Ion protective bag is also visible. As per the images, it seems that the smartphone was burned from the inside.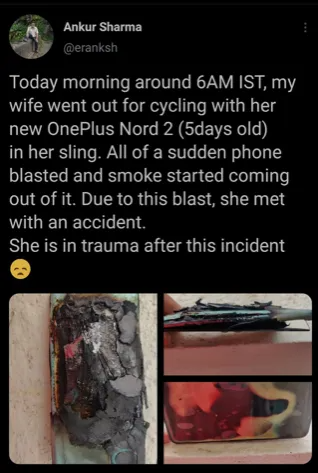 OnePlus had an eye on the post and it promised to investigate the matter. Though the company is yet to develop a final statement, the incidence is still under investigation. In response to Ankur Sharma's tweet, OnePlus reverted that they are "gutted" to hear about the event. The company requested Sharma to get in touch via direct message so that they can make it up. It is still vague on how the brand is planning to compensate.
Hi Ankur. We are gutted to hear about your experience. We are deeply concerned and want to make it up to you. We request you to connect to us over a direct message so that we can make amends and turn this around for you. https://t.co/Y6rHuMwu8J

— OnePlus Support (@OnePlus_Support) August 1, 2021